Malu-Bye for Ramiele
12:56 PM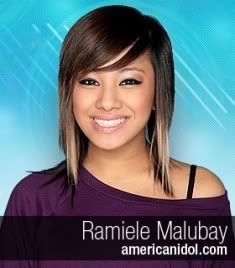 She's 4'11'', cute with a great voice, and is eliminated. For Ramiele Malubay, eliminations were the scariest part of the show. Not only Filipinos were dismayed to see her leave the show, but many Americans got shocked as well when their AI contestant was booted off last Wednesday.

I really haven't seen that episode, but my classmate texted me that she had read an article on Yahoo! about Ramiele's elimination. It saddened me after I read her message. I am really not a regular viewer of American Idol until Ramiele got in. I just really love her voice. It's like I want to have some dose of her everytime I log in.

Synonymous comments from the jurors gave concerns on Ramiele's unwise choice of songs. She's got a great voice but wasn't picky and wise. Anyway, many believe she'll get the wild card. For those in the US, keep voting for her and get her back to the show!

Recording companies in the Philippines are most probably sending offers to Ramiele. But for now, buh-bye Ramiele. If you happen to release your debut album, I'll surely download those on Limewire hehehe.