Where Have I Been?
9:00 AM
I attended the Campus Harvest!!!! NIKUYOG KO, NIKUYOG KA?

Believe it or not, my plane tickets were purchased 2 days before the event. It was purchased online, and my half-sisters paid for it. Yeah! My mom was hesitant at first, but since I already got the plane tickets, she gave up and sent me aboard! =D

My trip was exhausting though. My plane was based on an airport 3 hours away from our city, since Cebu Pacific is much cheaper than Air Philippines (the difference is about 1,000+). I had to travel by bus. The bus driver went sluggish after he stopped us over at a terminal for almost an hour. I can't believe it, he almost delayed me to my flight. It was supposed to arrive 2 hours before it. Bla, bla, bla, I arrived at the airport just to learn that it was delayed for 3 hours. The plane took off, landed, dad fetched me, dropped me at Ermita, ate at Jollibee Robinsons, looked for George, went to his condo. Bla, bla, I hit the sack..zzzz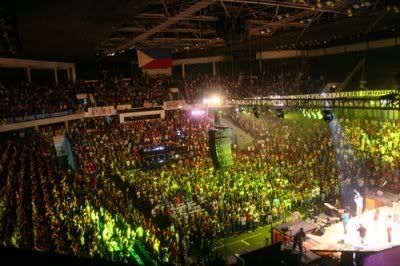 It was spectacular. My accommodation was free since George had me stay in his condo together with John. Though we got hustled on the first day (jam-packed MRT, traffic, summer heat), we got ourselves at ULTRA on time. Bla, bla, bla, we got the rows close to the stage, we bought some souvenirs, got our freebie (LIFE sim card sponsored by Globe), freshened up, and the countdown to Campus Harvest 08 blasted.
Everyone was excited, and God as well was sure excited to pour our His Spirit to His people. I was standing in unbelief how I arrived there by the last minute, by sudden provision, from favor to favor that seemed so impossible until faith revealed it. 2 months ago, everyone was so worried about how to get there, how to survive, what to wear, what to do. A month ago before everything was laid down by grace, God revealed to me not to worry about anything, and I'm sure the same was revealed to the other delegates. Man, Jesus rocks!
Matthew 6: 31-34 - So do not worry, saying, 'What shall we eat?' or 'What shall we wear?' For pagans run after all these things, and your heavenly Father knows that you need them. But seek first his kingdom and His righteousness, and all these things will be given to you as well. Therefore do not worry about tomnorrow, for tomorrow will worry about itself. Each day has enough trouble of its own.
Jesus said it, what else can we get from the man who healed the blind, raised the dead - but all the great encouragement and promises that never fail. Everyone of us had our testimonies of how we got there, how hyperbolically God came down and tapped us to go despite the lack and uncertainties. Jesus stepped out from his comfort zone, and so did we. Faith is sure of what we hope for and of the things we do not see. It was a week full of surprises and revelations. 4,000 people were on that conference, from campus ministers to students who could make a difference, altogether received His Spirit, saw His glory, and burning with the same passion Jesus carried to go out and make disciples to all nations!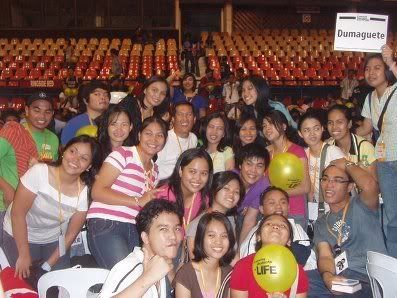 WE LIVE LIFE TO THE FULL!