Dolphins and Sandbar
10:53 AM
My August 28th....as Gensei promised - all expenses paid.
-----

The place was called sandbar, my third beach for the week. This time, I had the white sand, the best of the beaches I've been to so far. The sandbar is situated in the middle of the sea! It was about 5 feet when we got there under the scorching heat. The Japs enjoyed the beach while taking some snapshots. I was also satisfied with my first back flip right after Tetsuya showed me how to.

The place was great, and so was the whole of that day. Gensei paid everything. As he messaged, I brought Denden and Reyna along. It was a package tour and some other tourists plunged in with us, 2 other Filipinos and 2 Italians.

--------
I was all set that day and waited for 1 more hour until I got to see the calm waters in Bais City. It was a bumpy 45-minute ride with a short stop at Star Mart Caltex, where the Japs hopped off to buy some drinks.

Ahhh yes, Gensei brought his Japanese friends with him for his comeback in the Phil. There were 7 of them: Taki, Eisei, Tetsuya, Otsuka, Haruki, Kenta, and their sensei back in Japan, Jinno. Aside from Gensei, only Jinno-sensei can speak English fluently. The rest only knew the basics such as Hi and Bye. Denden, Reyna, and I had difficulty talking to them. They were just silent. Eventually, they all just seemed approachable and fun to be with - even though there was the language barrier! Haruki, who was the most intimidating of them all, showed up his funny side when he taught Denden and Reyna a famous Japanese novelty dance that really fancied me as well right after I saw Haruki repeatedly did it. Otsuka and Taki are the decent people while Eisei was the trendy one. We all had fun knowing each other - despite the...again..language barrier (char, haha).

Here are some snapshots taken by Gensei's Olympus water proof camera 8.0 mega pixels. We forgot to bring our camera so all that happened there were taken by Gensei's water-proof cam so as by Taki's cam which seemd to have taken only a few shots. I got all the photos the next day and uploaded it here. Maybe some of you will have your vacation here in Negros, and these photos here might interest you to come and visit.

It all started with Jinno-sensei savoring the calm sea in Bais.
The boat took off with this shot a few minutes later after the Japs emptied their bladder.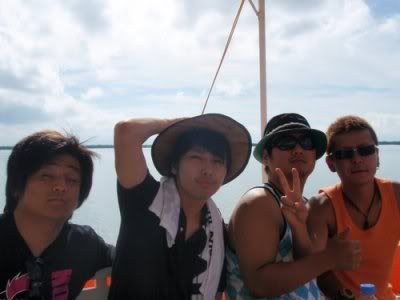 Meet the Japanese guys: Tetsuya, Kenta, Gensei, and Haruki (L-R) with the peace sign.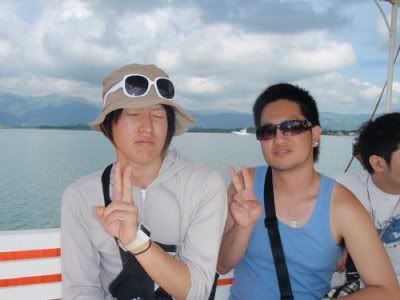 Eisei and Taki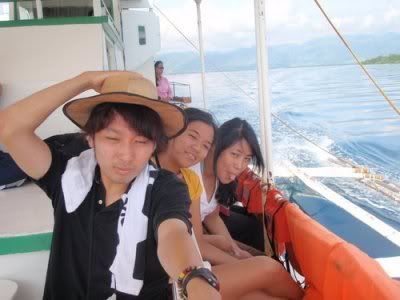 Reyna and Denden with Kenta.
Haruki sunbathing.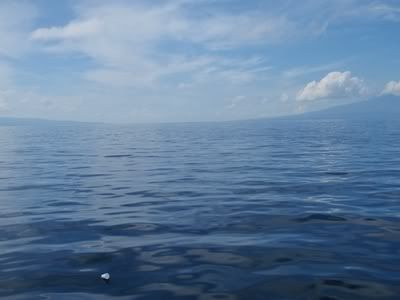 It took us about 20 minutes to reach the Tañon Strait where the dolphins could be found. Those dolphins we saw weren't in captive. They were free inhabitants of that area. The tour Gensei paid for was just pure dolphin watching. We weren't allowed to feed the dolphins, touch them, or swim with them.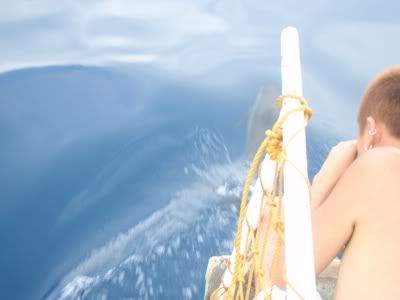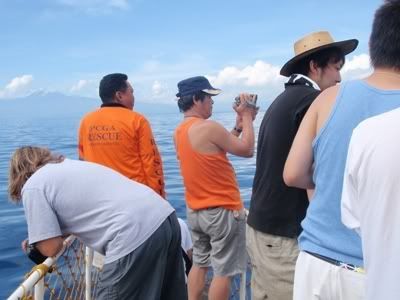 First, we saw 2 emerging from the bottom; then they became 4, 5, until there were about 10+ of the dolphins. They were quite hard to please at first for they didn't showed us any trick then. The dolphins were just like swimming around us.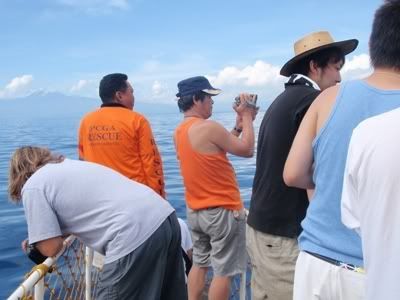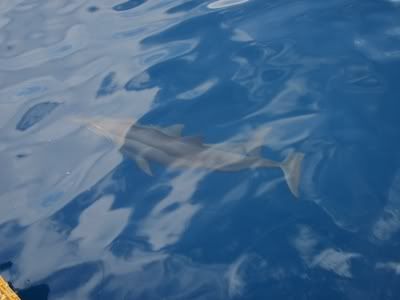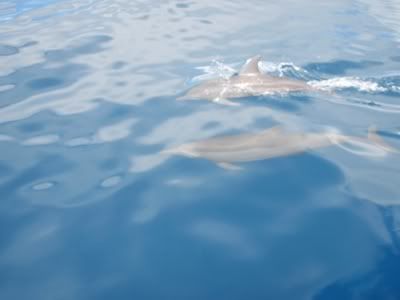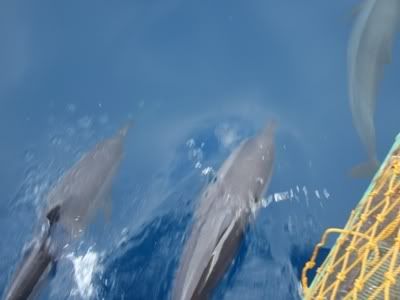 From 10, we spotted around more than 20 of them. We caught a few of them soar from the stream (not on paper though, but the Italians took a shot of it). Everyone went cheering for more.
We trailed the dolphins for an hour expecting for a whale to drop by. But after that, we didn't see any. Everyone gave up and went off to the sandbar for the plunge.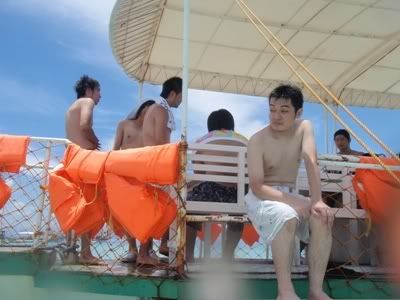 That's Otsuka there.
Kenta with his "ROCK YOU" post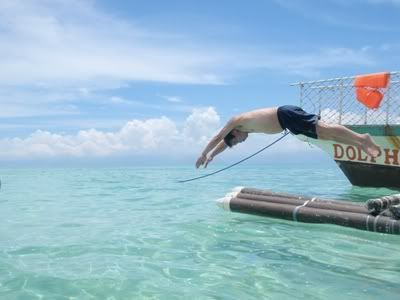 Jinno-sensei dive.
Haruki dive! Haha.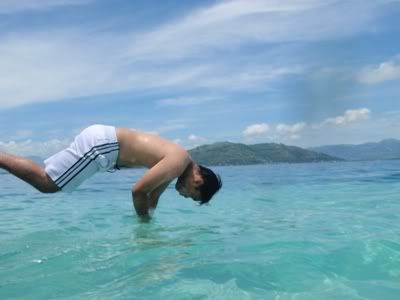 And presenting...the Sendo dive!!! Wahahaha - Gensei told me it looked BABOY!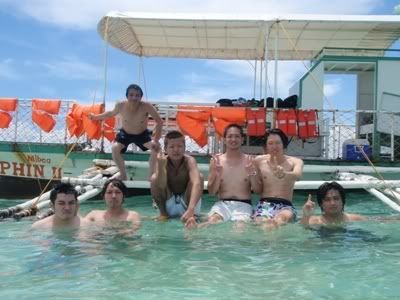 Gensei's friends: Otsuka, Kenta, Haruki, Taki, Eisei, Tetsuya, and Jinno-sensei at the back.
Tetsu taught me how to back flip. He showed me how, and then I followed. Gensei missed to capture it on his cam! hehe. It was my first time to do the back flip hehe.
Otsuka's unsuccessful attempt - the back flip failure hehe.
Reyna and Denden taking their post.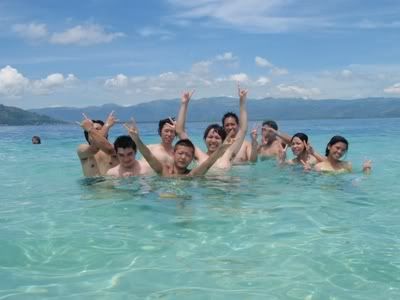 And it was like Filipino-Japanese friendship day.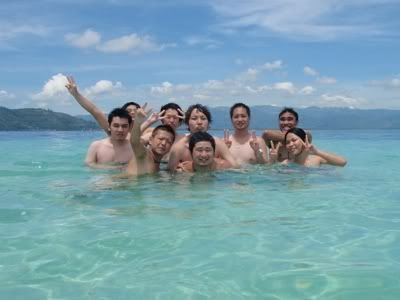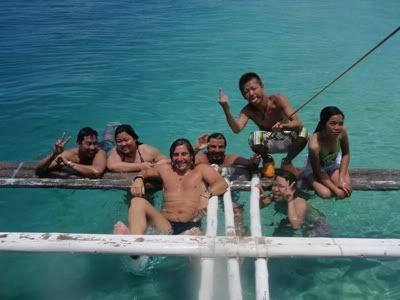 With the Italians and other 2 Filipino vacationers.
I failed to have a photo with them because I took the shots.
The water was at waist level a few meters from the boat. But when we went farther, it got deeper. Our tour guide informed us that the water usually sets low at around 4pm, and maybe we might not see it.
Lunch followed after an hour of swimming, jumping, and back-flipping. We had a lot of fun...again...despite the language barrier. They really looked so funny when they try hard to explain something to us...funny but KAWAII! =D
The food was outrageous. Had us full...OISHI!!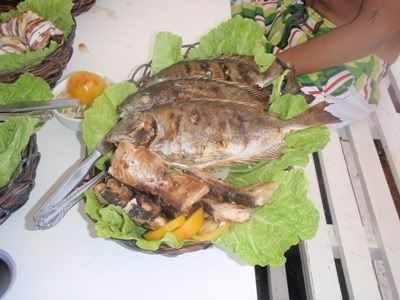 The Japs loved the junk foods we brought as well during the dolphin watching. Nova, Roller Coaster, and Tostillas. They were talking in Japanese and all I got was OISHI which means Delicious. Jack n Jill snacks are rare in Japan..especially in Kagawa.
By 1pm, we went for the water again. It was scorching hot but we had a great time. We grabbed the life vests and had our backs covered with it at least against the heat.
We really haven't captured the funny moments with the Japs. Haruki went wild after a few guy talk with the Gensei, Kenta and me. Otsuka, who was the silliest among the 8 of them, became the subject. Several women just seemed attracted with Otsuka and the rest of them were quite surprised. They said it never happened in Japan. I told them that Filipinos like Caucasian beauties just like Otsuka. Otsuka is a pure Japanese, and for me, he really doesn't look like Japanese at all. He was the first guy I met among Gensei's friends and he dressed like a Dumagueteno too.
Haruki, whom Gensei claimed to be the most admired back in Kagawa, seemed to have his charms ill-fated in the Philippines. So as Kenta's. I told Haruki something that could've turned him off a bit. =D I told him that he looks scary haha.
More frozen moments
Haruki's best frozen moment =D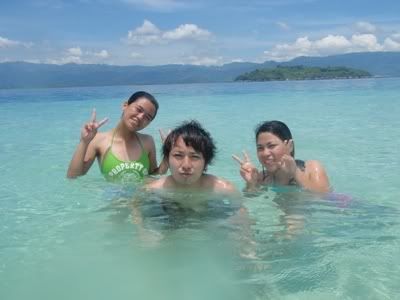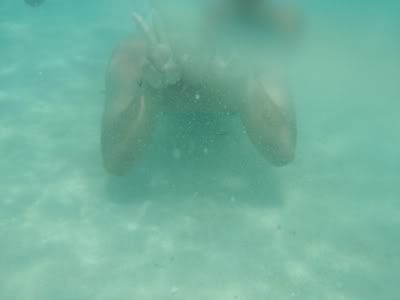 Snapshots underwater.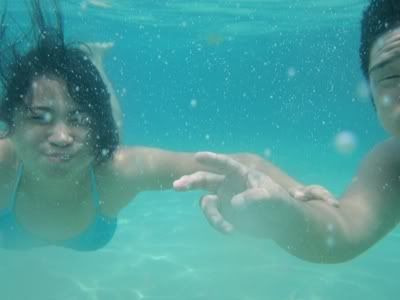 The thingy thingy..starfish daw but I don't think so. There's just a lot of it underwater.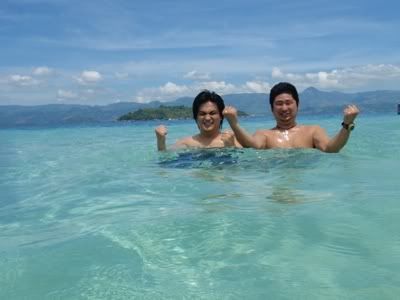 Gensei and Tetsuya.
Eisei and Taki
-----
The water went low about an hour after we had our lunch. It was really amazing. We couldn't explain where the water went. There were bubble formations, bla bla, don't know how to explain it, then later on, the water was low and the sandbars emerged.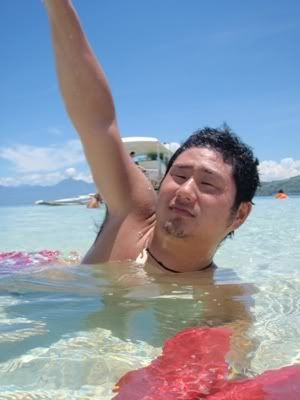 And Gensei's cam was about to go empty with the next photos.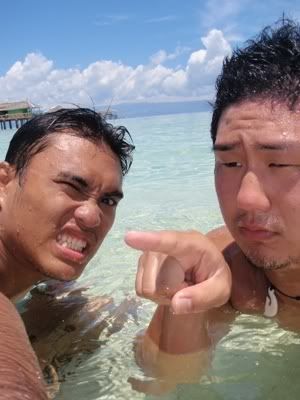 Few more snapshots underwater with the fish going elsewhere from the emerging sandbar.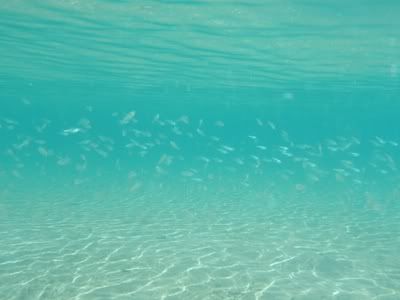 Finally, the sandbars showed up.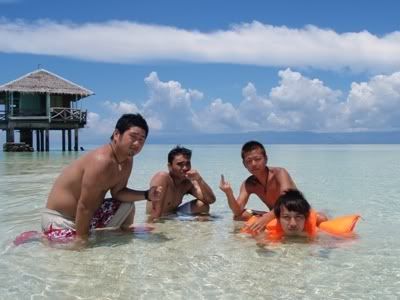 Gensei's cam went empty after the sandbars full form emerged. =P I think Taki caught it, but I haven't transferred the pics from his phone.
The fun stopped at 3pm, and everyone was just laying their heads on the tables exhausted. We missed the Mangrove Island which was an optional for our package tour. Everyone was asleep a few minutes after our boat docked off the sandbar. We arrived at the port area by 3 and traveled back to Dumaguete for an hour.
-----
That was all about the sandbar and the dolphins with the Japs. Thanks a ton for the treat Gensei. It was also fun to be with the Japanese.
They just left at 3pm today back to Japan. =( ahhh so sad. I sent Gensei some fax in their hotel in Manila and he was surprised when he received it. They left Dumaguete last Friday. We spent the whole Thursday night with them. Denden and Reyna left early while I had the first few hours of my Friday spent for them. Eisei, Taki, Tetsuya and I had a lot of fun in their hotel.