The day after the dolphins and the sandbar

-----
By night time of August 28, Gensei invited us to Coco Amigos. Jinno-sensei was there but Taki and the rest slept early. Nobu and some other Japanese Sillimanian students were there as well. Jinno-sensei was telling a lot of stories which interested us: from Japanese culture to the Japanese language, until he started talking about this Japanese paper and the activities they'll be doing in Siquijor. As we took off, Jinno-sensei invited us to be in their hotel the next day. He instructed us to bring some white shirts so that we can have it painted.

Jinno-sensei was actually making this streamer by the day we went their for the T-shirt painting. It was a streamer on Silliman University and Shikoku University's decade of friendship. He was just so proud about it that he wanted it hanged somewhere in the campus. Jinno-sensei asked Taki and the others to help us out with the painting. There were just a lot of colored paints. Gensei started asking us about our T-shirt designs and everyone wanted it to be Japanese characters. Gensei sought the Jap characters for SESI, REYNA, DENDEN, and GEORGE and RENE who were also there that day.

That day was caught on paper with these frozen moments.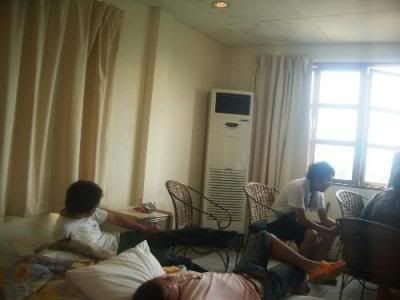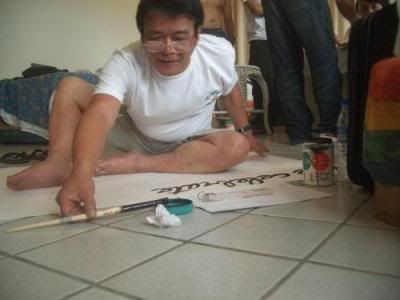 Jinno-sensei painting the streamer.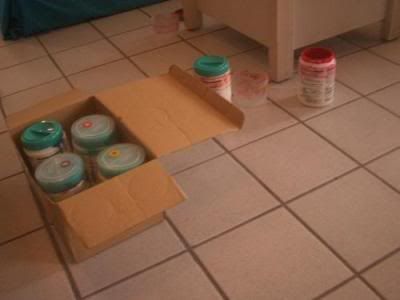 Unwrapping the paints.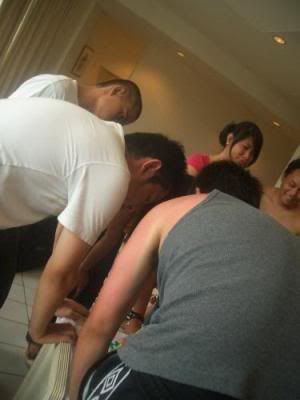 Planning out what to paint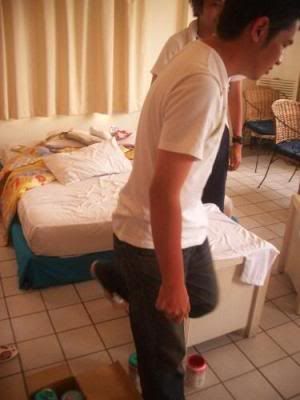 Spreading the shirts.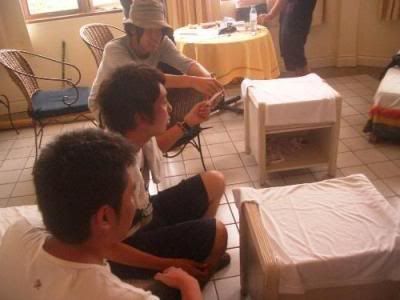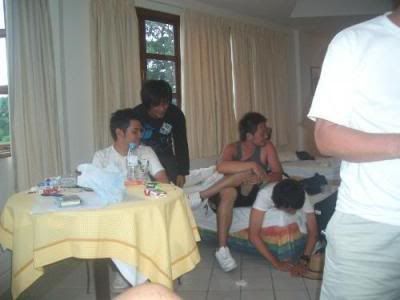 Gensei actually wanted us to pick among Taki, Eisei, Kenta, Tetsuya, and Otsuka for the shirt painting. Jinno-sensei I think picked Otsuka for me. I really don't know who paints best among them.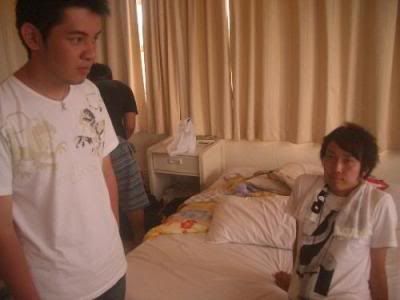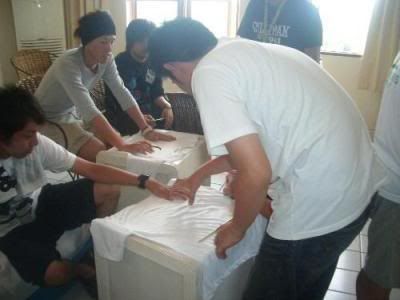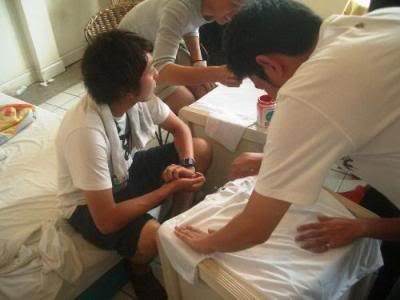 Eisei was the one who painted Rene's shirt. From here, they're trying to layout the Japanese characters on the shirt. SE-SI - Jap-Chinese characters which means beautiful beach. Jinno-sensei picked the characters for me. There were a lot of Jap-Chinese characters equivalent to the syllables Se and Si. Sesi comes from my name Sesinando, and that's how they call me here in Dumaguete, even for Gensei and his friends.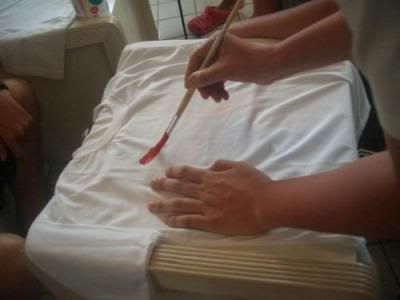 By the time Otsuka made his first stroke, I asked Kenta and Gensei if Otsuka is good in painting. Kenta joked that Otsuka isn't. I learned later that he meant it right after I confirmed Gensei for the same question. Otsuka seemed hesitant when he brushed his first stroke. He almost messed it up, and we all went laughing when he retorted in Japanese. Haha.
Eisei begun his smooth strokes by then and finished the first syllable, RE for RE-NE.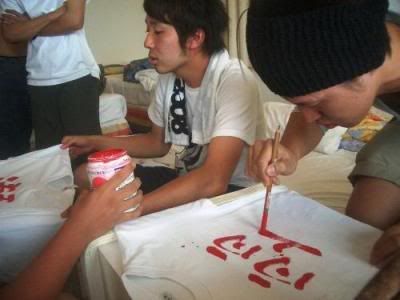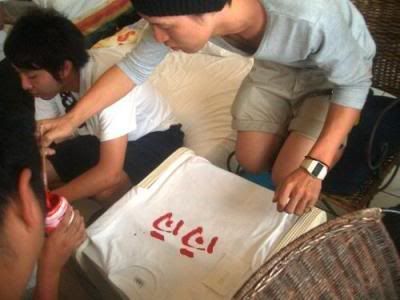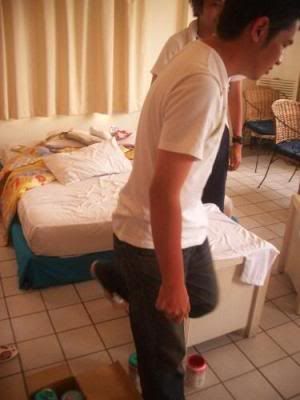 More from Otsuka's masterpiece.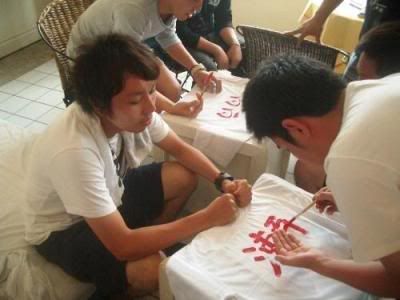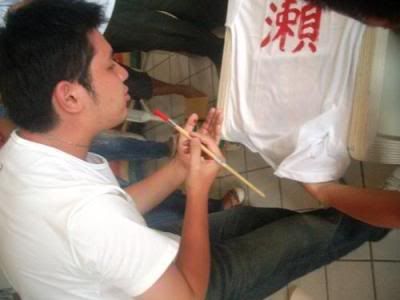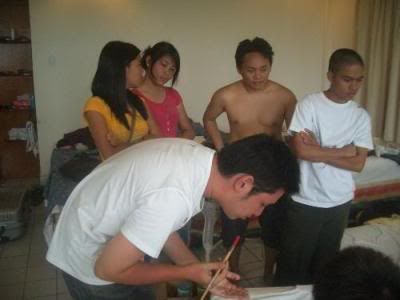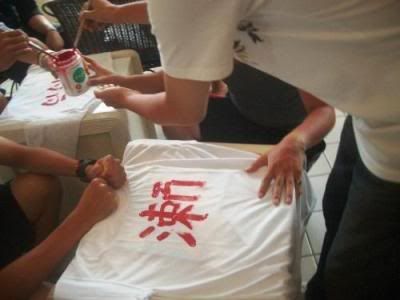 Tadan, first syllable done.
It's pronounced as SE.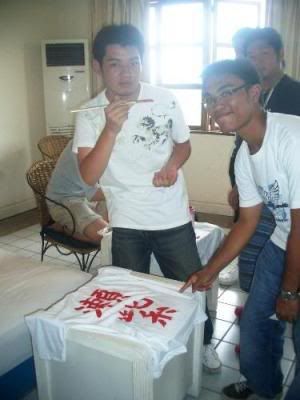 A few minutes later, Otsuka finished earlier than Eisei. The shirt looked great and came up clean!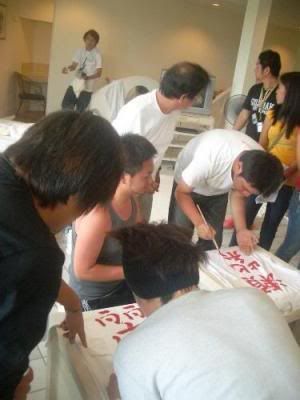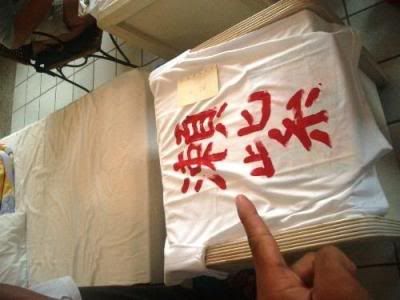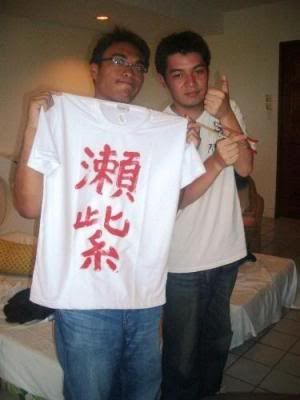 Thanks a lot Otsuka. You did great dude, hehe. Otsuka doesn't look like Japanese upclose, but he's pure.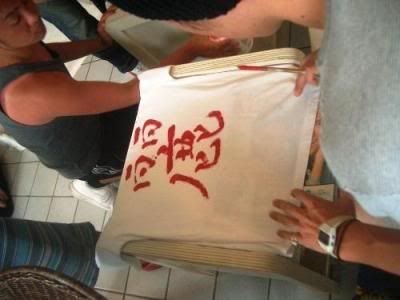 And there it is. RE-NE finished. As Eisei finished the shirt, Denden and Reyna decided to have Eisei paint another one for them. They said he was better than Otsuka and even Jinno-sensei which I think is quite true.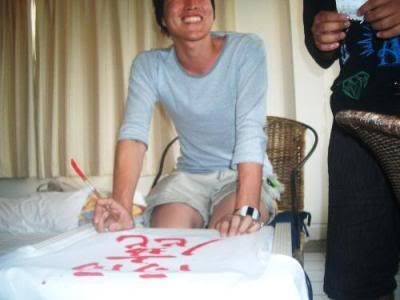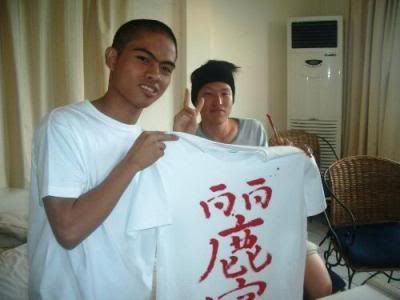 Rene and Eisei shot with the shirt.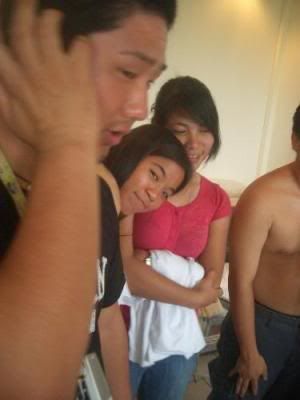 Reyna and George's shirt are up next.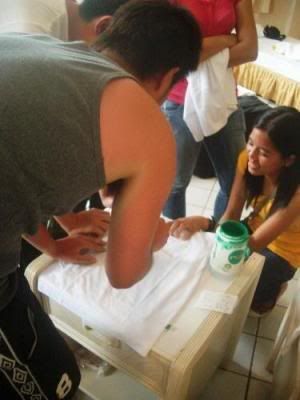 This time, it's Taki's turn to paint for Reyna's shirt.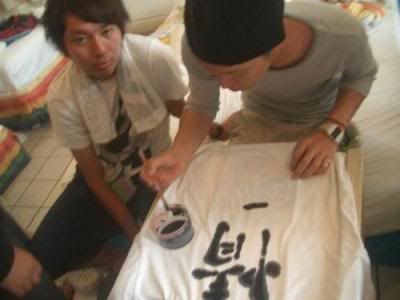 Eisei, for the second time around, painted George's shirt with Kenta's assistance.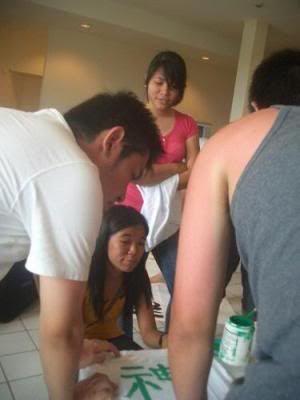 Taki started off with the first syllable. Otsuka is now on assist.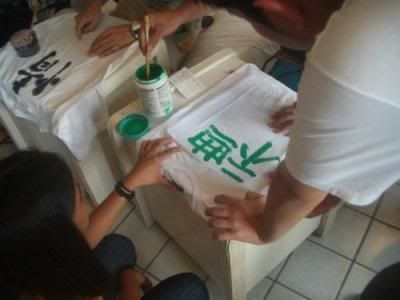 more pics.
The rest of the images are currently in Gensei's cam who is now in Japan. =P Reyna's bat which I was using emptied after the last shot.
Eisei again painted for Denden's shirt. Everything finished at 5pm.
Jinno-sensei invited us for that activity without charge. I can't even believe how Taki, Eisei, and Otsuka were so willing to do it. Jinno-sensei said that it was his gift for us for being friends with Gensei and the others. Wahaha, char.
Anyway, we appreciated it a lot. It was very fun and we got to know the Japs better.