My name has a meaning
3:49 PM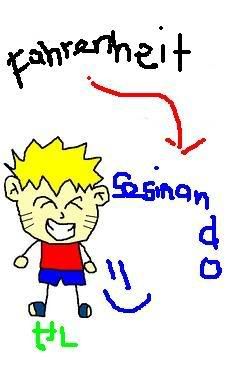 At long last I found a meaning to my name!
It means,
FAHRENHEIT
in Japanese..
so?? at least may meaning haha
Sesinando = Fahrenheit
As in kapatid ni Celsius. Literal translation talaga yan in Japanese. Who told me? My Nihonggo tutor of course. I was so surprised na may kwenta pala name ko sa Japan! Bwahaha. So if I work as a nurse in Japan -- I'll always mention my name pala.

"Kare no temperature wa 101 Sesinando desu"

(his temperature is 101 degrees Fahrenheit)

<---sikat!!!!

I'm just really surprised -- kasi pati tatay ko di niya alam kung bakit Sesinando name niya.
So sang lupalop ba galing ang Sesinando. Ewan ko rin sa lolo ko---di ko na siya natanong kasi deds na siya when I came to Earth.

Pero may meaning na name ko. What's its deeper implication to me kaya? Sabi kasi nila,

YOUR NAME IS YOUR DESTINY!



How about yours? What does your name mean?