ANOTHER NEW PHONE! And I hope the next one will be 3 years from now.
I broke my Motorolla E318 a year ago, lost my N1200 last summer, and just a week ago my other Motorolla broke . It's funny how I get to be so reckless with cellphones. Back then I smashed my N3310 goodbye and unknowingly lost my Ngage after it slipped out my pants. The latter was the best cellphone I had and I would have never bothered replacing it if it weren't lost. So now, I'm down to my cheapest choice on phones.
This new one I got costs 1700. It's a new brand from China they call
my|phone.
I'm not sure how long this would last though but with the cheap price it's enough, as long as I could text, call, and receive announcements from school I shouldn't be missing. It can play mp3s and videos if I can provide a memory card for it. I was also thinking that cheap phones have quick text and call options than those with too much multimedia features and all the blah blahs--so this should be good for me. =P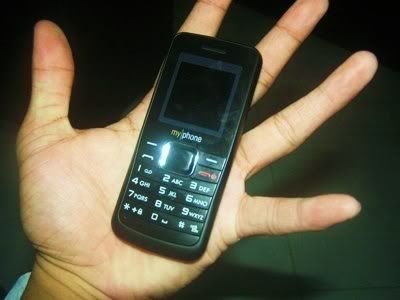 I know eventually I'll get to torture this one if I get disppointed --or if gets a little dysfunctional -- or when I think it's running slow when I'm in a terrible hurry ---that was how I broke my Razor anyway -- smashing it to death for its terrible functionality hahaha!