Best Bud/Best Bro
2:37 PM
I grew up without having the company of a brother or a best friend. I never even grew up close with a family member, not even my mother, not even my father. I grew up a little paranoid with relationships: I easily doubt, and I find it hard to trust anyone. Surely, I know several familiar faces that greet me each day. Some close companies I couldn't consider emotionally connected, but only to live up with the saying that no man is an island. I've tried to fit myself with a few people, but it didn't work out, and it was not the bond I long to have. But an unexpected encounter came by.

Several things have happened during Nam Hyun's 113 days in the Philippines. I was his English tutor, and he became the smartest student I ever handled. Sooner, like we both didn't expect, our bonds became intimate. We had spent our time in the most explicit ways we could. For 3 months, we enjoyed every moment greatly. We both shared to one another the entities and cultures we have become.

Like best buddies, we had done and shared a lot of things even as short as 3 months. We had been to a lot of places we had never been to together. We woke up and took off to far places without taking a bath and a breakfast. A foreigner as he was, he met my friends and my family. He went with me to my hometown. He lived in our house, and we were like brothers sharing chaotically in one room. We talked, and we wrestled. We laughed together, saw wonders together, jumped, got lost along the way, rolled, snorkeled, bathed, ate, biked, swam, rowed, paddled, sipped, food binged, drank, badminton-ed, billiard-ed, karaoke-d, LOTTO-ed, shared weird dreams, shared rooms, shared clothes, shared shoes, shared money, shared goods, gave chocolates to the girls during Valentine's, paid respects and tributes to those honored, made promises, broke promises, made fun of anything that came along our way, fought and argued over narrow things, studied together, taught each other values, shared stories, so on and so forth. I've always coined our bond like that of two magnets with opposite poles. We termed ourselves as "magnets". It was really fun and I could probably never have the same stuffs with other people again.

With similarities, we both have our short term memories bothering us. During several times, we criticized each other as our forgetfulness brought us to a number of compromises. We are both dastard with cockroaches. We both love nature. From mountain tops to lakes and falls, our bond strengthened even more.

Compared to our similarities, our differences are overflowing. First, our anatomic vessels don't carry the same blood (duh whatever, kk). He's Korean, and I'm 25% Chinese and 75% Filipino (char). I also noticed that with lengthy mountain hikings, Nam Hyun seemed to score best. With boating and swimming, he flunked, and I seemed to have enjoyed most. In terms of character, mine is weak and Nam Hyun's is strong. Our personalities either don't harmonize. My words are aggressive and sometimes are carelessly hurting. His are careful and incomparably gentle for a 28-year old human species. I'm sluggish (but eventually I learned how to wash my clothes through him), and Nam Hyun's definitely diligent and enduring. He has a great life in Korea with great friends and a great family, and everything with me in the Philippines seems to be the exact opposite. He's organized and swift, and I'm the antonyms. He never gets mad (never, ever, ever), while I easily let off anger and act out wild temperaments. He's very thoughtful, while I am not so thoughtful, kk. But who the heck cares, our familiarity went on and our student-teacher bond mutated to that like the tandem of Odie-Garfield (his favorite cat of all times). I also learned from Nam Hyun that with best friends, similarities and differences don't matter. It's just "I trust you, you trust me", even when a million miles apart.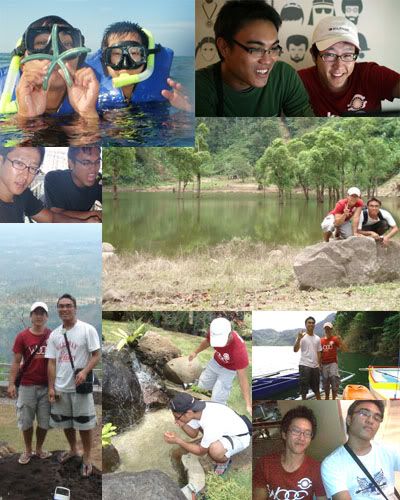 If we were observed by a surveillance camera on a 24-hour view, people would probably get to see and understand that everything between Nam Hyun and I was like an intimate bond of true blue brothers. We exchanged trust, went through and solved misunderstandings and prejudices. We expressed all the thoughts we had in mind. We laughed over the people who thought we were boyfriends. Psychological dysfunction I said, while he clenched his fist ready to thrust and break off false judgments. We giggled over our own romantic pursues. He learned about my interests, and he taught me his.
Time sure flies fast like an arrow, that's what Nam Hyun always told me about. We exchanged letters and farewells this morning. It was a sad moment, and he soon was out of sight. I couldn't help but burst into tears. I was like a child rubbing my eyes with my arm.
It was just 3 months, but it felt like years. I never found any other friend as Nam Hyun. I don't have a brother, but I found that aspect in Nam Hyun's entity. It's really odd, but some circumstances would lead to the strangest curves in life. I didn't expect that it would be Nam Hyun. I didn't expect that he could provide the shoulder I needed whenever I cried; nobody has ever patted my back when I cried but Nam Hyun; he was the least person I expected to relate with my frustrations; I had always unchained everyday's pressures in front of him, and all he did was be there to provide the company I needed, the company I never had since. Despite the language barrier, he tried his best to express everything, to help ease the loneliness nobody ever knew. Nam Hyun always listened, even to the deepest thoughts suppressed for so many years that I haven't ever told anybody about.
I finally found the company I needed in Nam Hyun. One could never imagine, but we were stuck with each other 24/7 and almost everyday. It wasn't just the company that have us emotionally connected, but the trust we have built with one another. If given a longer time or even a lifetime, I believe we could go on as best buds. Our bond has not even reached its full potential yet because of some resistance. Nam Hyun sometimes said, 'he couldn't express everything he really wanted to say in English', but we still got through. I am not well-versed with Korean semantics either. And our bond was just for some short three months. I wept hard for the fact that I couldn't be his magnet any longer. I was dependent to him for 3 months. Nam Hyun's got quite a number of best friends, and I don't know if he's really added me up to the number. But to me, he still is the best, best, best bud I have yet. T_T I really miss Nam Hyun.
I cried in front of him and expressed my gratitude of how happy I was to have him in my life both as a great friend and a brother. As of me, it's difficult to adjust with the unusuality of his absence. I can't do many things because he's now gone. And I don't have a brother to listen and stay with me with my downfalls.
There's a mark of Nam Hyun wherever I go because I brought him to almost all the places I hang out to. From then on, I developed my capability to trust and my paranoia shed off. For now, he's only reachable through yahoo messenger and short phone calls. And still, we continue to live up with, "I trust you, you trust me". T_T. There's still a long way to go until we meet again. NAM HYUN HYONG!!! T_T T_T T_T I was really touched of your letter, and I've been reading it all over again.