Kawasan Falls + Moal Boal
4:31 PM
Since we weren't registered voters, we thought of a way to cool down an ovenlike Monday while public schools were being swarmed of mixed tension and excitement for the elections. We couldn't just leave ourselves devoured by being outcast of the current spur, so we decided to go to Kawasan Falls and Moal Boal in Cebu Province to fill in a day of nothingness. Together with me were Adonis, Joanna, Jenty, Hun, Titus, and our newly befriended Korean Swings.

Cebu Province is actually a neighboring island of Negros Oriental. It is reachable by either a pump boat or a fast craft from the municipality of Sibulan (15 minutes North of Dumaguete). A 30-minute ferry ride from the municipality of Amlan (45 minutes North of Dumaguete) is also available if one wishes to travel along with a car.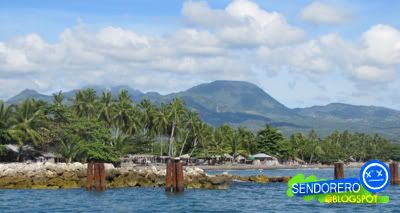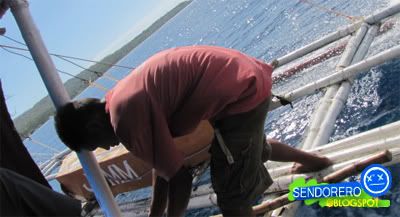 Since Hun's car cannot accommodate 7 people, we opted to take the PHP45 pump boat from Sibulan to Bato Barili in Cebu for 15 minutes. As we arrived, we immediately found a pedicab that accommodated 7 of us to the bus terminal for PHP20 each.

The bus terminal was empty, and we felt privileged to be the first passengers of the bus heading to Kawasan. We fooled around the bus and made some noise while waiting for departure.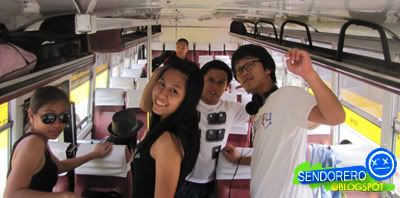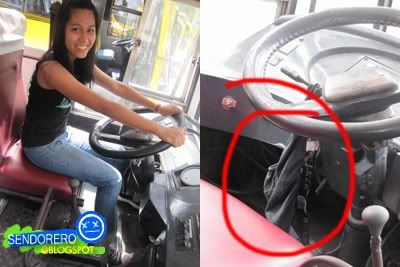 JOANNA and the mystery underwear.
The bus departed at 10am. The pace was pretty slow during the first 20 minutes but then suddenly fired up for the next 20 minutes after the driver heard us mumble about it. He intently wanted us to fall from our seats as he dashed his way through the narrow road. WAHH! Good thing we arrived safely in the municipality of Badian where Kawasan Falls is situated.

Unlike the steep descent to Casaroro Falls, Kawasan is reachable for a few minutes walk uphill.
Along the way to Kawasan Falls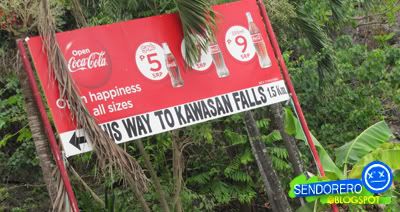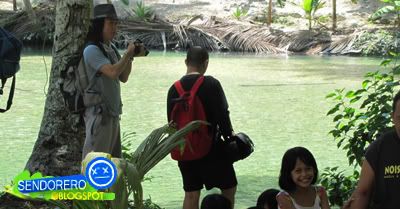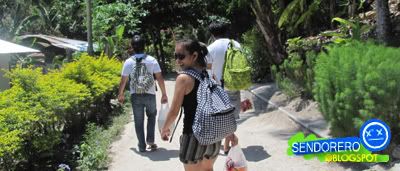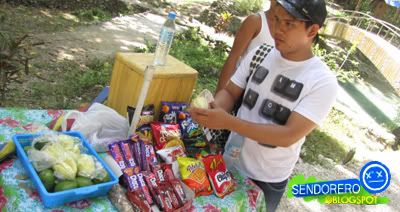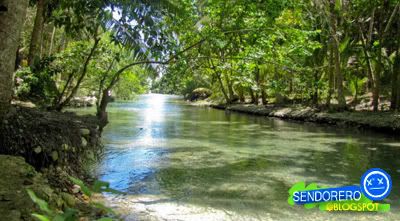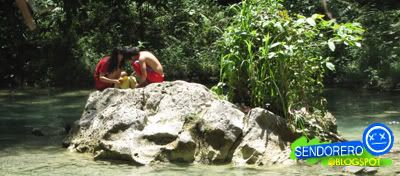 Kawasan Falls is among the numerous waterfalls that can be found in the island province of Cebu. It has three sets of waterfalls all plummeting from approximately 50 ft above water level. Its icy turquoise water and raging stream are popular among locals and foreigners who travel from Cebu and nearby provinces to appreciate the pristine ambiance of the place. Entrance fee is at PHP10 each per head. Available rooms are also available for those who opt to stay overnight.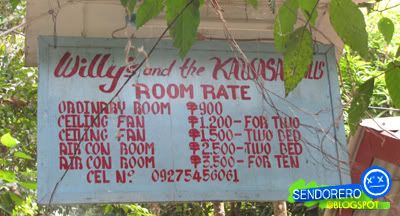 For lunch, we bought 2 buckets of Jollibee fried chicken, cooked 2 kilos of rice at Joanna's house, then bought 3 bottles of 1.5 softdrinks way back in Dumaguete before we took off. We thought it's the easiest and cheapest way to get over with the food.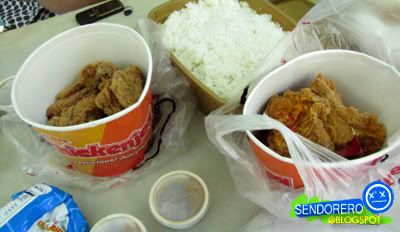 After eating, we immediately geared our life jackets and plunged into the water.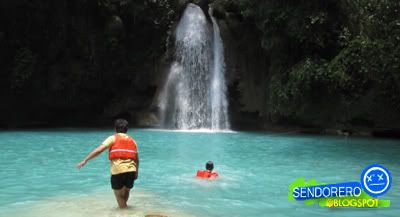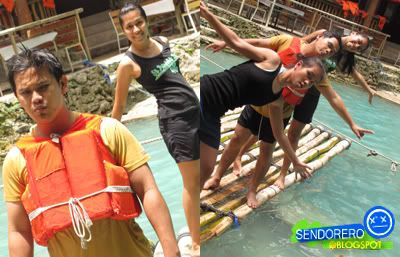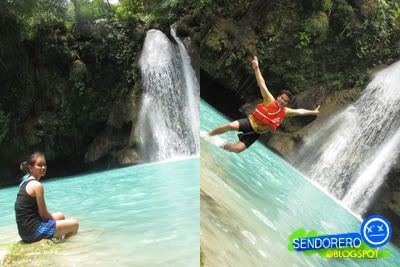 To fully enjoy the violent smash of the waterfalls, we decided to rent a raft for PHP300. At first, we thought it would be all for the fun. After the first roundabout however, we were charged PHP600 for the 2 boatmen. Wahhh! It was very expensive, and we weren't informed earlier about it. We clarified to the management about it and told us that the boatmen have separate rates. Dang. We just divided it by 7 and paid. They told us though that we could ride on the raft as long as we wanted.

Lesson learned: Always demand for thorough explanations about the rates before everything else. T_T Nah, we just enjoyed our time there as much as we could.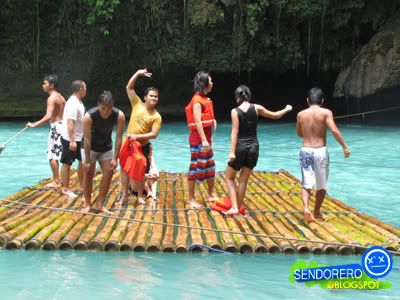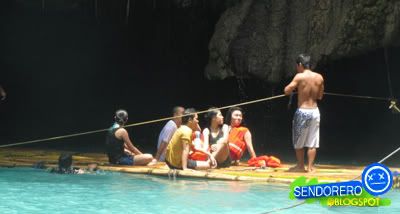 To get to the rear of the falls, we have to lie down on the raft to fit through a narrow space separating the rock from the water.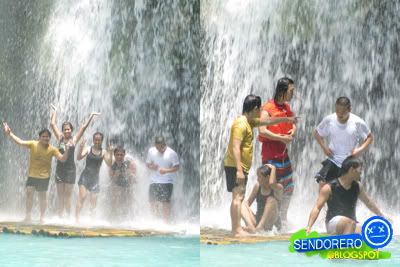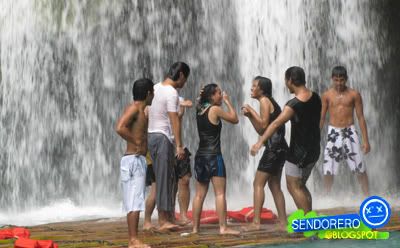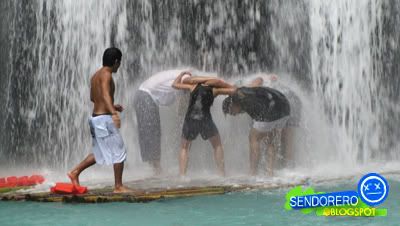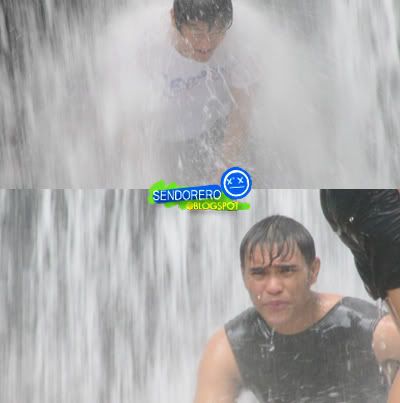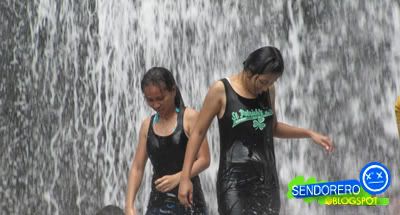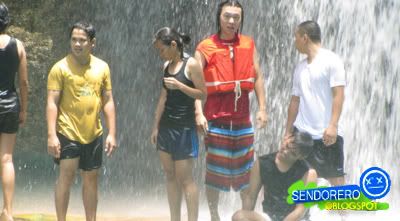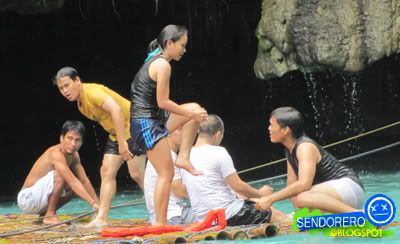 Since we were in a hurry to catch a ride for Moal Boal, we didn't any longer visit the other falls which were just 5 minutes away from the first one. Instead, we took another raft ride to the water falls for some jumps, nyaha.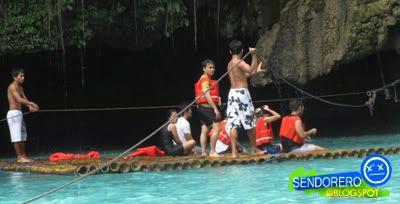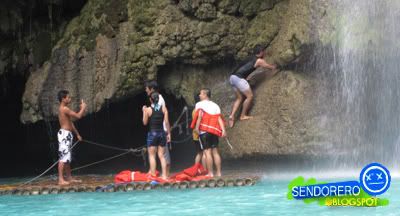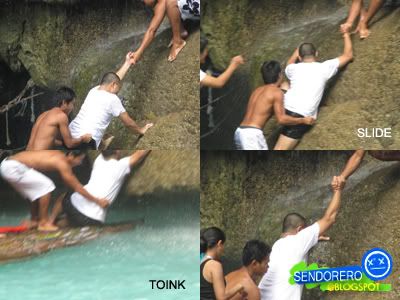 GO SWINGS, GO, GO, GO! Haha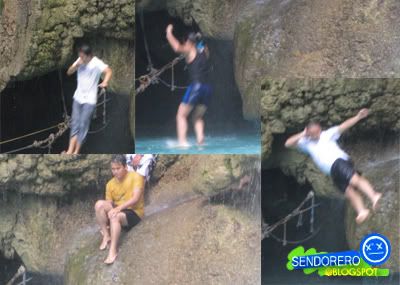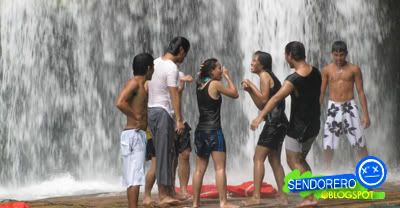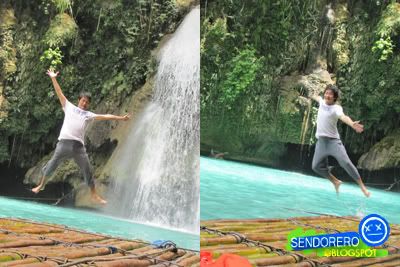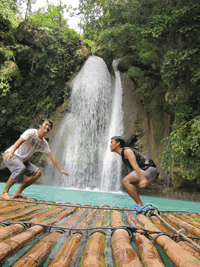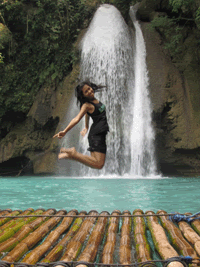 We left Kawasan Falls at 2pm to catch a ride to Moal Boal. It took us a long time to find a ride, when suddenly, some stranger offered his multicab to us for PHP300. The offer was good so we decided to hop in for a 30-minute ride to Moal Boal.

Moal Boal is another municipality southwest of Metro Cebu. The place is famous for its beach resorts. It's also popular among divers because of it's wealthy underwater contents.

Negotiating for the fares with the locals is something difficult when you're with foreigners. As soon as we arrived, pedicab drivers immediately swarmed us to offer a ride. We suddenly realized that they were up to the foreigners we were with. At first, 2 drivers offered their cabs for PHP1,000 for a 6 km trip back and fourth. Then they cut it down to PHP800. We asked the others for a cheaper rate as we kept giving them unsatisfied looks. Eventually, one driver gave in to giving us the normal rate of PHP50 per head back and fourth. Haha, sabi ko na nga ba, andyan lang yung magsasabi ng totoo, haha.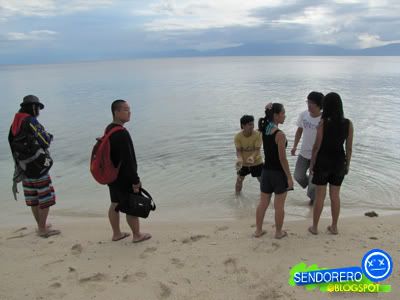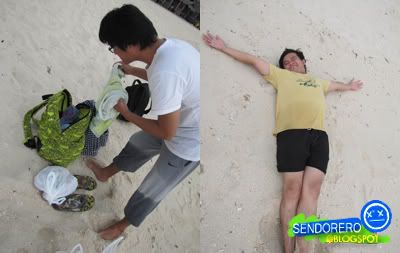 The beach wasn't that as beautiful as the one we've had in Siquijor. We weren't able to appreciate the place that much not until when we saw what was underneath.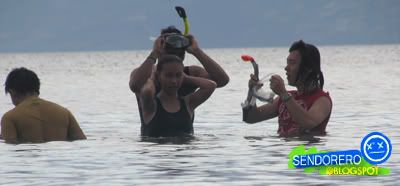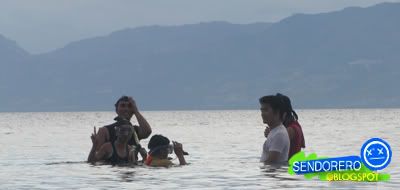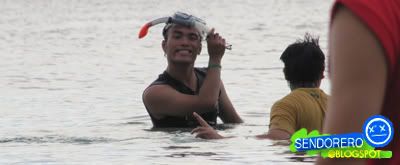 WOW! There were like a thousand fish at a very shallow level. Blue, red, black, yellow, orange....I felt like I was watching Discovery Channel in 3-D, haha. I've snorkeled a lot of times and I've never seen such marvelous beauty underwater until then. We didn't mind how deep we went. We just enjoyed looking at huge brain-shaped coral-reefs and various fish swimming in hordes. It was really great.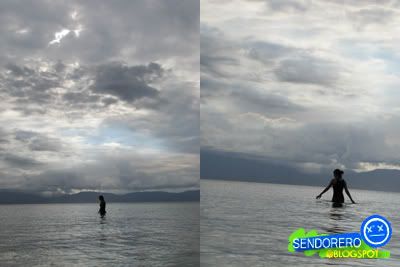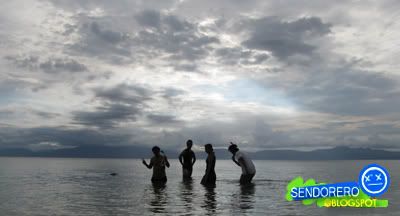 My camera ran out of battery after a few shots of the beach. After the dip, we had a terrible time looking for wash areas to find out that there wasn't actually even one in that place. Manong driver however offered his house for us to wash. It was so kind of him to bring us there and had us wash. When we got to the main town, we gave him additional payment as an appreciation to his kindness and hospitality.

We took the barge going to Amlan since we weren't able to catch up for the last pump boat trip. We stayed until 9pm at the terminal, traveled for 30 minutes to Amlan, then took the bus for another 30 minutes to Dumaguete. We didn't eat our dinner and went home directly to rest.

All in all, we spent PHP750 each for everything from food to fares and other miscellaneous fees.
UP NEXT!: BANTAYAN ISLAND!!!