One Wicked Repainting
12:58 AM
Saw this man doing his thing as I walked in and out from a meeting---and it's one deadly repainting he's doing up there.

Staring at him, I was like---WOW....he is repainting??? How would have he looked like falling with that height from a piece of flat wood on barely man-held ropes as support? I wonder how his boss got him to work on such a risk. He could've broken his limbs before he got his pay or end up dead before he completes the repaint.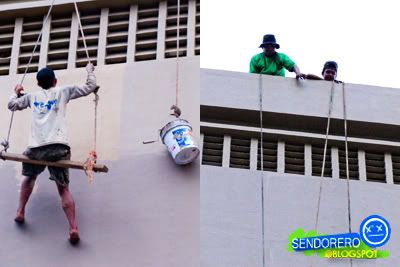 Hanging from some 50-feet with a roller on a bucket of paint, the culprit behind the repainting idea must be wicked sick to be leaving his worker in an unstable support. Why does it have to be repainted anyway?! Did it have to be repainted so badly that they couldn't buy some time to purchase a mechanical pulley, a lifter or a body harness then? Look at that! It's sick and high!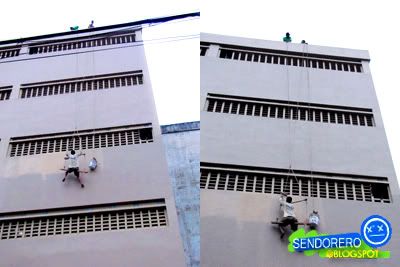 Or maybe the pay was big time to get someone do some strokes on barely such undergird.