A.K.A. The Best Man
3:24 AM
Confused best man. May flowers ba ang best man? Help!
For the first time in my life, I became the best man in a wedding,
chaching
. The last time I walked an aisle for a bridal entourage was way back 16 years ago as a ring bearer.
Hindi pa ako heartthrob nun, child star pa lang, nyahaha.
When my cousin asked me to be his best man for the wedding, I didn't hesitate. It was both a privilege and an opportunity for me to finally get involved,
"this iz it" ang eksena
. I've never been such an utmost significance in a wedding ever since my ring bearer moment back then. For the past weddings I've been to, parang wala lang kasi. I didn't feel involved, so I didn't care. Haha. Joke. Baka di niyo nako iinvite sa weddings niyo. I was happy for the newly weds and I expressed my best wishes; pero I think I cared more about the aftermath: the reception, the food, the garter, the bridesmaids...joke!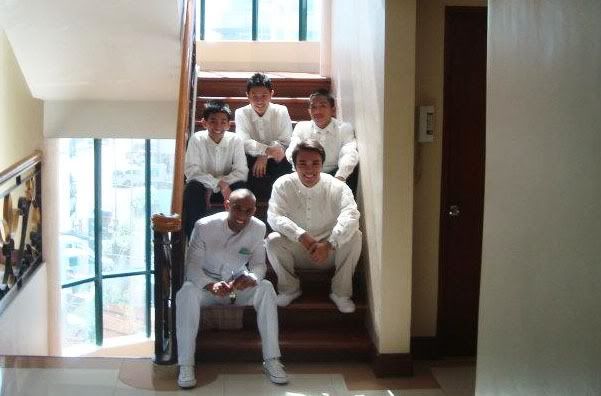 The groom with his men. Ang gwapo ko rito! Haha
But recently, I had to play attentive and concerned in a wedlock. I really didn't know how to act as a best man because it was my first time. I didn't even bother ask nor research. There weren't no rehearsals either. At saka, it was not that much of a big problem like how I should be concerned of my obesity, lol. So by the eleventh hour, saka nako nag-act concerned and involved kuno. I felt busier kasi in my other world (shootings, press cons -- lolz). Kaya tuloy, last minute ko na rin nadiscover na di kasya yung pants for me. Good thing naisip ko the night before na magsukat at magpalit; eh di sana nagmukha nakong suman sa wedding.
Anyhoo, dahil uso, I matched my barong attire with a pair of rubber shoes. Dressed up na kuno ako, but then, I was still clueless of what to do during the wedding. Ano ba? Magka-cat-walk na lang ba ako there ala Bench model?
Poise na poise! Parang zombie lang.
Pero dahil fast learner naman daw me at marunong makiramdam, the wedding went well. Thank you wedding planner for the 10-second instructions. Just in case anyone needs to know what best men do in a wedding, heed to these:
The following are based from my observationsw. But as far as I know, these are the general duties of a best man you could cling on if you're on last minute enlightenment.
(1)
The best man is the first one to walk on the aisle to lead the groom and his parents to their respective places (yung parents sa confession room). At para di sayang ang photo ops, be in your best gentlemanly stance while walking down the aisle. Walang time limit kaya slow down. Poise! :) Hihi
(2)
The best man receives the rings and the coins from the bearers and places them on a designated area place (most likely to an area nearest you or right beside the wedding official). Wag ng umasa sa wedding planner.
(3)
The best man hands the rings to the wedding official for the blessing/prayer.
(4)
The best man holds the microphone kung merong microphone. Kung wala, remind the groom to shout para marinig ng masa ang vow.
(5)
The best man assists the groom in every way possible. Utusan ang best man for that day. Well, I must say, yung maid of honor nga from the name itself "utusan" na. Kaya as the counterpart, best men I think, had to be "utusans". Char, gawa-gawa ko lang to ha.
Being majorly involved in that wedding was also the closest I've been to observe one. Kaya emotional at excited din ako along with the groom na parang ako lang yung ikakasal. Tuloy, gusto ko ng ikasal, weeee. Most probably according to the ghosts in the sky, I'm next.
Anyway, anyhow, congrats to the newly wed! Congrats 'insan! Dontcha worry, I cared about the wedding. I got involved and didn't only think of the reception. Thank you for this wonderful opportunity,
chaching