When in Manila Again
10:11 AM
The first time I set foot on Manila grounds was back in 1995. Cute pa lang ako nun, ngayon heartthrob na, nyaks, haha. Wala lang, I'm just sayin'! Haha!

Anyhoo, nadagdagan na naman ng heartthrobs ang Manila 2 weeks ago when I visited there, wahihi. Wala naman ako masyado ginawa run, nagpalipas oras lang, haha. My mom forced me to go with her kasi kahit wala naman akong agenda run...siya lang, dahil sa convention niya with co-hospital admins. Ayaw ko sana sumama kasi wala naman talaga ako gagawin run, waste of time, waste of money. Kaso dati pa pala siyang naka-book ng ticket for me, kaya surprised effect naman ako. Eh sayang yung ticket---let's not waste money. Kaya sumama na lang ako to waste my time! Nakeks...wala choice, sayang man gud ang ticket, kuyog na lang ko uy!

Mother-dear asked me to book a hotel 3 days prior to admission ---I mean prior to the flight. Sosyal kami this time kasi may 50% discount ako sa Bayview Park Hotel --thanks to Tito Ted, a church mate in Dumaguete na kilala ata ang may-ari. Piptee percent huh... Kaya i-on na lahat ng de-kuryente at tubig hanggang mag check out para sulit!! Joke.

Kahawig lang ng Bayview Park Hotel ang World Trade Center Hotel sa Dubai, hmmm. ---again...Just sayin'! Haha

Anyhoo, nakakatamad naman mag-story-telling by the details, haha. Pwede summary type by photos? Hihi. Ang ginawa ko lang naman talaga dun eh ...


...kumain



ng kumain....



ng kumain....



at kumain...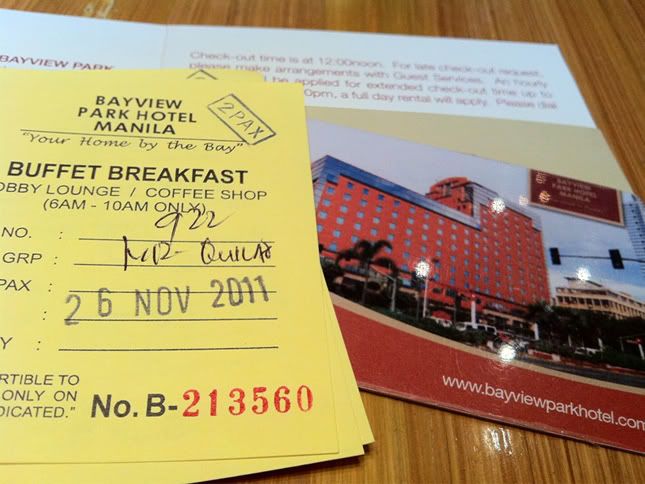 at gamitin ang banyo ng hotel for nth times.



at kumain na naman ulit...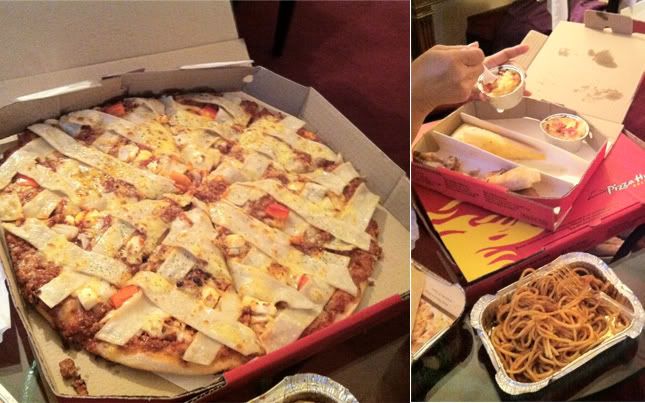 ng kumain...



super eat...



super duper takaw much eat power up...



at ang pinakamalupet, hindi ko sila kinain, pero yung kinain namin together eh malupet. kasing lupet ko lang!! (with the guys from U-Bloggers)

END OF STORY
KTNXBYE!
But wait...there's more!
Trivia Time!!!
Ano sa tingin niyo ang dapat na title sa blog post na ito?
A. Food Trip in Manila.
B. Baboy Ramo
C. Ang heartthrob na matakaw.
Itext lang ang sagot sa 0917*******!
And get a chance to win a date with me with all those food!
OK? SEE YA!!!