Out With The Family
5:00 AM

I was out with the family during the second day of the last year of the world (chos). It was just the second day of the year but everybody felt like 'twas the end of the world after all the crazy shots we took. We were so high (both geographically and psychologically), we seemed so drunk with just a glass of iced tea. Most especially, particularly, and ultimately.... me.
Define Family.

Add Sendorero to it.




Multiply it with 8 more people.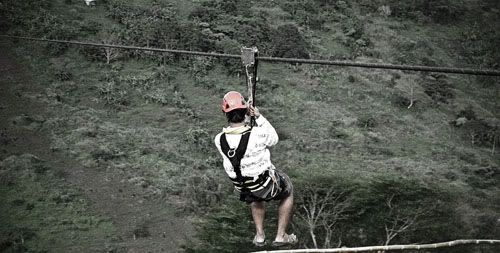 Then raise it to the power of 1.2-km ziplines.
Not that thrilling, lalo na dahil one position lang.
But the view of the mountain ranges is ecstatic!
Tapos ihihinto ka sa gitna for a few minutes.
Ayun, exciting na siya.




Find its coefficient nature 18 degrees Celsius.




Then raise it more to the power of 850 meters above sea level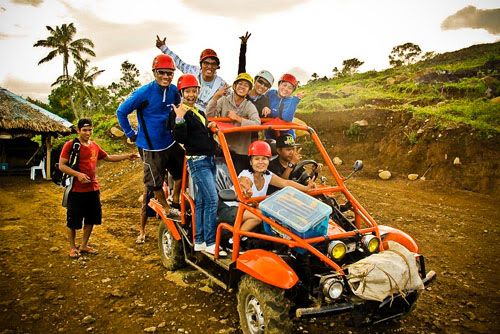 Add one buggy with 8 passengers on it



Find the slope it traveled.




Then plot it on the Hoyohoy XY Axis.

"Out With The Family" done and solved.

Charing lang. It doesn't even sound like an equation at all diba? Pero parang tumama naman, chaching!
This outing with the family was kind of a good jumpstart of the year. I realized that the "fun" we define when we're with friends is totally different when we're with family. There's a sense of deep-rooted connection that is not capable of creating any prejudice within the belongingness of a family. However deep friendships can be, family is still enduring whatever torments fall upon it. Nothing can go beyond it. Kaya ubra na yang mga movies na mas pinapa-importansyahan ang friendship kaysa sa blood-family. Nyaha.
-------------------------------------------------------------
About the Place
Hoyohoy Highlands Nature Park
, which is 30 minutes away from Ozamiz City, boasts of its 1.2-km ziplines (claiming to be the longest in Asia) and the fact that it lies at the foot of the
Mt. Malindang
mountain ranges. The nature park, 850-m above sea level, has a hotel and a camping area for those who opt to stay overnight. Other activities include horse back-riding, kite flying, and soon, the cable car ride. For more information, visit their Facebook page by
clicking here
.