Big Balloons and Flying Men
3:36 AM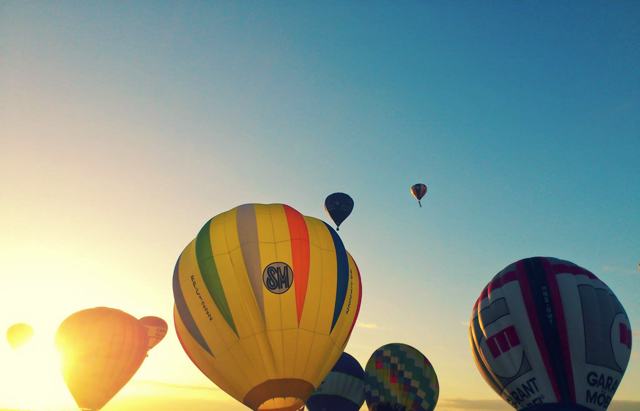 So one of the things I listed on my bucket list this year was "to ride on a hot air balloon". Unfortunately, it was not possible yet. To be able to ride on one, you may either have to make your own hot air balloon or sponsor the event. For lowly life forms like me, the only thing doable was to watch everything float and covet on everyone flying. Kaya for this year's Hot Air Balloon Festival, sightseeing lang muna.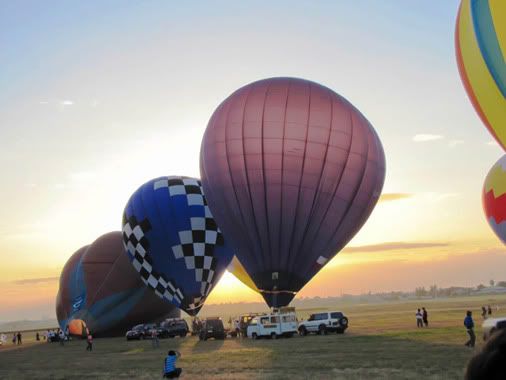 Jenty and I woke up in Cubao at 2.30am to catch a bus ride to Angeles, Pampanga at 3am. Checked in at Ponderosa Hotel at 4.30am, then caught up for the
Hot Air Balloon Festival
at 5am just as they were still setting up the balloons . The queue wasn't that complicated at all. Parang A as in Apple lang. Nyaha! Plus, the skies were pretty in league with what we were exactly up to. Ang ganda.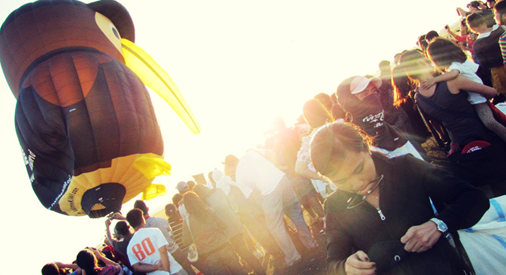 Sadly, we couldn't get up close the hot air balloons. The set-up field was barricaded. Only authorized people can go around within that perimeter. Pero I was pretty contented na from where we're stood. The view was good enough and I think the balloons looked better from afar than if we were any closer to them. Unless sasakay kami sa hot air balloon talaga, lalapit ako at hahalik sa lahat ng balloons. Our PHP200 ticket wasn't much enough to get that ride. Pa-zoom-zoom lang muna ng cam.
The balloons that stood out.
Watching the balloons take off one by one was amazing, lalo na't first time ko 'yung makakita ng hot air balloons outside the television :). The view of Mt. Arayat and the sunrise was also pleasing, relaxing, comforting, stimulating parang drugs. It would have been romantic if I was hot air balloon gazing with someone…ayeeeeeeee. Hey daydreamer!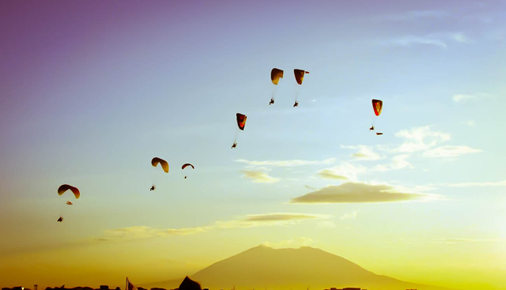 And those guys flying, other than kaaya-aya silang tingnan, nakakainggit naman at the same time. Who in the world would not want to defy gravity like that anyway? Tinatanong pa ba yun? Balang araw!!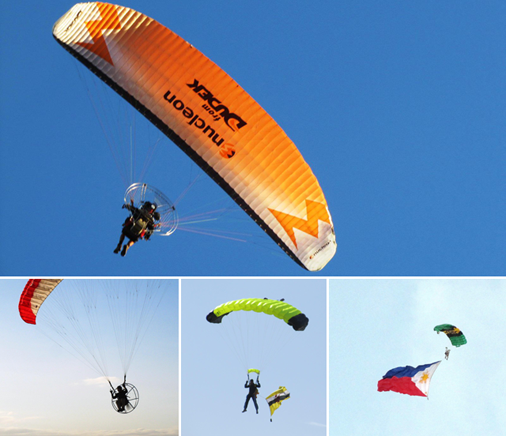 And that was awesome. I'm coming back next year. :)
The Philippine International Hot Air Balloon Fiesta is an annual event that occurs between January and February at the Omni Aviation Complex in Clark Field, Angeles City, Pampanga. It features multicolored

hot air balloons

with more than a hundred balloon pilots from around the world. This three to four day hot air balloon event is the biggest aviation sports event in the Philippines.