From North to South
3:59 AM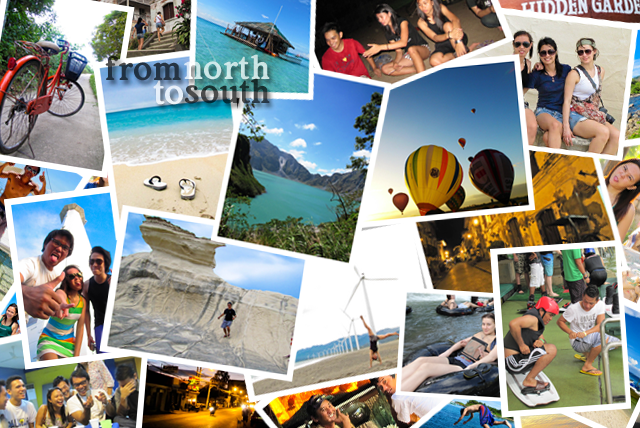 This is definitely my longest trip to date. Twenty days to be exact. It was awesome---like Kung Fu Panda! Ahw. :)
In this trip, I got to travel with a handful of people for the first time following itineraries that went on shorthanded and made up it was so fun we wanna travel together again to get lost more and laugh at misadventures along the road. Nyaha, run-on sentences are so fun right? Just like run-on sentences, our trip was so spontaneous we almost lost in touch with hygiene and current events :). I didn't even know Whitney Houston died and that my hometown got flooded again until the next two days. Being so caught up with the here and there, I almost had no time for laundry. I had to wear the same shorts for 4 days and wear the same....secret!
Luzon, Visayas, Mindanao.
The planning started out 5 months ago through frequent exchange of hopes and plans through Skype. My church mate, Jenty, came up with the whole idea of visiting one place in every major island of the Phil. This was her better plan to tour her Aussie friends around the Phil. Para daw sulit, one place in every major island of the Phil---Eat Bulaga ang drama. That time, I didn't have any travel plans for 2012 yet, so I pinned myself with her plans. Sawsaw much, haha. Fast-forward to February 9 after chasing promo flight tickets, we took off.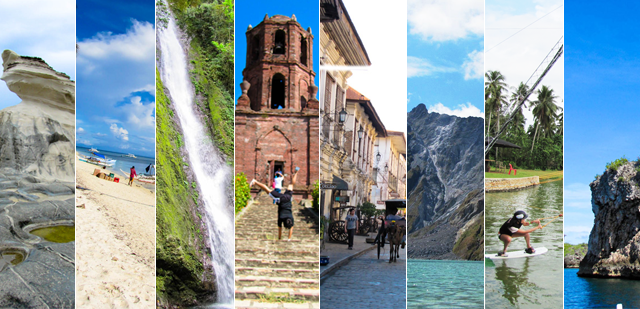 After passing on several invites to several people, the final count for the trip was: 4 in Luzon, 3 in Visayas, 4 + more in Mindanao. Parang nag-aannounce lang ng winners sa Bingo noh? We actually had to adjust our travel itinerary several times to give way to the Aussies who were flying in from Japan and also because of people who kept changing their minds. Making frequent changes on what's been decided can be annoying, but it just happens. Bla, bla, bla, everything else after that was a happy ride!
The Travel Buddies
It's not my first time to travel with Jenty. But having to tag along with Australian people seemed to be a new flavor to me. I like traveling with foreigners! I've traveled with their likes a lot of times, and I find it so fun to fool them about Philippine facts, hahaha. So mean. I meant, fool around. K? Traveling with Sarah and Cathlyn (the Aussie girls) really turned out to be so fun, especially that I got to learn Sarah's lovely accent. RUHHHYT SUH-RUH ("Right Sarah?" in Australian accent).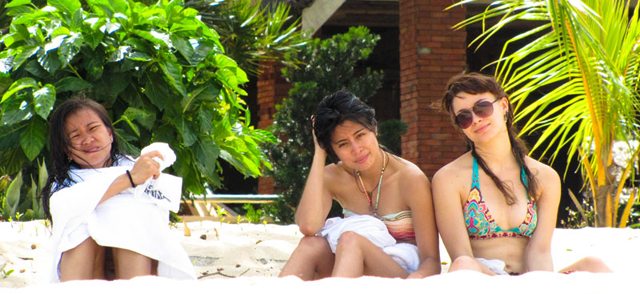 Jenty, the Aussies, and I hiked Mt. Pinatubo after side-tripping at Clark for the Hot Air Balloon festival. Went around the quaintly lush municipalities and cities of Ilocos Norte the next day. LUHVLEY PLUHYS ("LOVELY PLACE" in Australian accent). Discovering the main landmarks in Vigan, nearby Laoag, Bangui, and Pagudpud went on for 5 days. Fast-forward to our last night in the Ilocos region is this video in Gerry's Grill, Laoag. It's about my special skill! WATCH NA!!!
The girls had booked a flight to Puerto Princesa for the next destination. I was in Puerto Princesa not so long ago the reason why I chose to go to Malapascua and Bantayan islands in Cebu with other guys instead.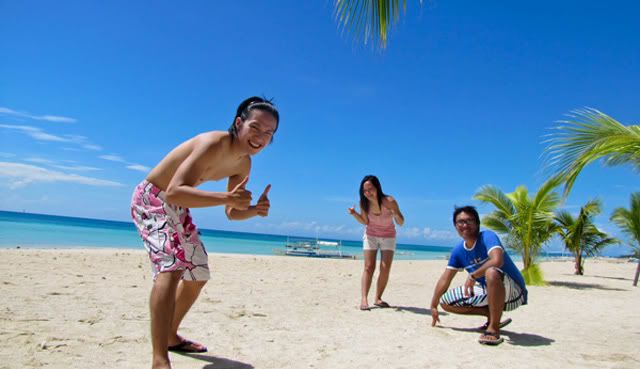 I traveled with Ger and Neil to Malapascua and Bantayan. We had 4 days of sun-kissing (verb ba yun?), night swimming, cliff jumping, bicycling, snorkeling, motorbiking, island hopping, and eating at Ging-ging's (oh it so rhymes!) That went on from February 18 to 21. We burned and hurt ourselves. I didn't know it pays off to be a masochist at times for the sake of fun and experience.
HURT OURSELVES HERE.
Touchdown DAVAO for the third time. This was where I reunited with the gals. Jenty and I actually didn't bother to make the itinerary for this trip. Our dearest Davao friends [slash] church mates took care of it. Kaya thank you to them big time kasing-laki ng Jupiter.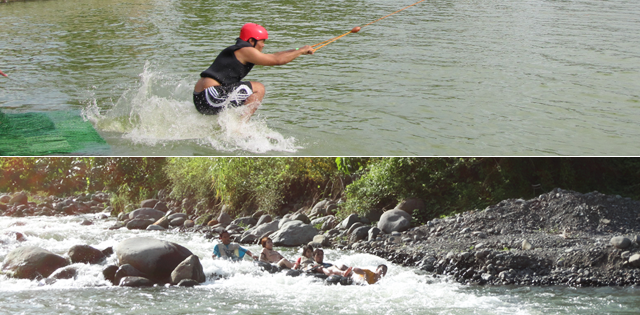 Everything in my Davao visit that time was painful. Parang araw-araw hazing. We had tubing, wakeboarding, zorving, eating, fellowshiping all in 3 days. Ang saya sa Davao kahit bibisita pa ako ng 20 times, andaming pwede gawin at kainin. We had to skip Samal Island since we've had too much beaches and we didn't have much time. Having been to Samal and nearby landmarks, I felt a little sorry for the Aussies. Eh ang laki naman talaga ng Davao, three days aren't enough to roam the whole place. But they said---their Davao trip was so fun they could have just spent their whole stay wakeboarding. Ang yabang ha! Dahil ba nangyari sakin to!? Haha!
The highlights of this trip are probably those first moments I've got to engage with new faces, try out a language, and interact with lively cultures that somehow pulled out a part of me to feel belonged to those lands faraway. Char. Oh yes, realizations ko yun. I've gone to other places, but this 20-day backpacking trip has set an inspiration to me to explore, encounter, and engage more. With several lessons stacked along the way, I learned to appreciate even the simplest things in this short life, the strangest people, and the least of things--- that are---surprisingly--- worth some love.