RareJob and the Japanese
4:29 AM
Just in case there's a need for readers to know (oo like that, haha), I have been working as a home-based English tutor for a company called
RareJob
for 6 months now. I'm a registered nurse. But unfortunately, nurses aren't well-compensated in the Philippines, so I chose the better light of working for a company that provides triple a nurse's salary. Besides, I love teaching English and just anything I know of (like ninja arts); so working flexibly with something I enjoy doing actually pays off. And just last Sunday, I finally got to meet the ever famous CEO of that company I work for, Mr. Tomohisa Kato.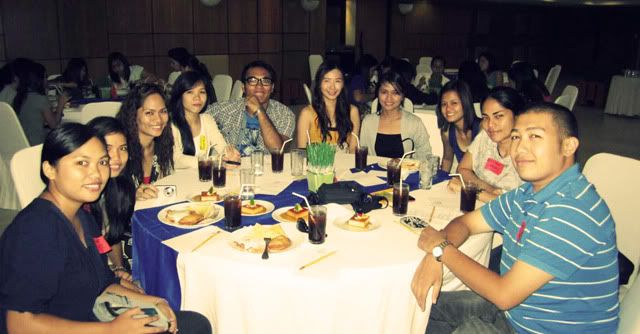 I went to Cebu just wanting to see the CEO. Oo, talagang ganun, haha. RareJob holds a lunch gathering for tutors quarterly. The event I attended last Sunday was the first of three and the first time in Cebu (since it's usually held in Manila, Davao, and Baguio). Every tutor gathering, the CEO awards tutors who have good performance evaluations from the students. It is also the CEO's chance, in behalf of the entire RareJob Tokyo Team, to thank and reward the tutors for the service they provide. I wish they could give more though. :P But thank you still :)
See that? I look so decent beside the CEO.
For the tutors on the other hand, the lunch gathering is a photo opportunity with the CEO. I don't know why, but my friends say he looks good, which I think---in a non-gay way---is true, haha. Eh kahit ako nagpapicture din, because I believe he's gonna be in FORBES someday; instant bragging right sa ganun, nyaha. RareJob is the number one online school in Japan and almost every Japanese knows about it. And to have a photo taken with the man behind its remarkable success is a privilege.
If you have any questions about RareJob, feel free to leave a comment or e-mail me or Facebook me or tweet me! :)
From L-R. My ex-dormmate Gensei, the half-American half-Jap George, and the IT guy Obi. Then the girls clumped together like sickle cells. :P
Anyway, I met two other Japanese guys during the event. The funny thing is, they were no old acquaintances of Mr. Kato or any of the tutors or the staff who were there that time. Mr. Kato just bumped into them the day before the gathering, invited them, and now they're my new found friends. I wanted to connect them to a close Japanese friend of mine who has recently transfered to Cebu to work since the Japanese community isn't still that huge in Cebu I thought they needed someone who's lived longer in the Phil. So together with some of my college mates who also work for RareJob, we ate out for dinner at a Japanese stall , exchanged introductions and stories via spin the bottle before we ended the night.
<i>I think we promoted Dumaguete a lot as the most livable city in the Philippines next to Davao. Well Gensei agreed with it! Dumaguete is wonderfully lax and cozy.</i>