The Bicol Disaster
11:54 PM
Just a tip-off, this is a long narrative but may be worth your time. Carry on.
Thursday. Holy Thursday to be exact. Three weeks ago. I woke up to muscle pains that was crippling me to reach my phone or clutch the door knob or hold the sporks. Despite passing some hours idle at the wakeboard park insisting how my arms were too lame to go on resisting ropes that pulled my meat, I stood up painfully from the ground recalling how it all happened the day before. I just couldn't imagine how Quentin must have felt. He was the one who pulled the cables all day. He was stellar! Such a monster!
CWC (CamSur Water Complex) was a paradise by the way given that fine weather we were there. But it wasn't much for me. As the sun set, I hoped I had balanced better. I hoped I had my mind set to endure overly strained muscles longer. I was good at kneeboarding. But the wakeboarding wasn't for me to master in a day. Quentin had fun, nonetheless. So I'd say the trip there was worth it.
The trip there. Was worth it. The trip there reminds me of the ship we missed bound to Cebu. It reminds me so much of how we crammed into a bus bound to Dipolog as part of a risky detour. To catch a flight from Cebu to Legazpi at 11am, we had to take the earliest ferry to Dumaguete. The trip to CWC reminds me how we missed that flight. And how we booked another flight bound to Manila instead because we wanted to push through.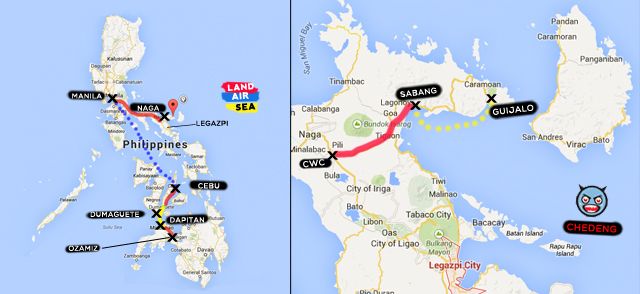 So I begin this story. I backtrack. Before CWC and Caramoan, the touchdown intended was Legazpi. According to what was generally assumed, I was only to cartwheel my way to Legazpi via Cebu by plane without a sweat. But no. It was Ozamis to Dapitan by bus, Dapitan to Dumaguete by ferry, Dumaguete to Cebu by bus, and then a no-show for the Cebu to Legazpi flight. That was too much sweat! And actually, our parents still don't know about this. So, hush.
To make this long story a little less longer, instead, we got a bus for Naga at Philtranco in Pasay by 9.30pm after a delayed flight from Cebu (thanks still AirAsia). It had been 24 hours with no signs of Legazpi yet. Quentin and I....just hoped for a better day.
There's this French gal whose name is disclosable for some reasons (thus this alias "Natie"). For her, it was almost disaster-free. She flew from her point of origin to Legazpi without a sweat. But due to the long detour Quentin and I had taken, we needed to change the itinerary a little bit and take her in with us for disaster. Haha. Not really. It was just for the better considering time, money, and distance. After all the troubles behind, we still pushed through. It's backpacking. Cheapskating. Anything could happen. Blah.
At 7am, we arrived in Naga. The first thing in my mind was to fill the gut. Naga is a huge terminal complex. On one side is a strip of local eateries right before the bus platforms. At 80 pesos, I had the fill I'd never had since missing the boat. Unlike our previous trip to Sagada (which was awesome by the way and 90% disaster free) where we spent so much on food, I had to pull a tight budget for stomach-ly desires in this trip. My wallet was really on the horns of dilemma beforehand; but again, we still pushed through.
BAHALA NA SI BATMAN!
We boarded a bus bound to Pili and got off at the place the locals call the "Capitol". This is the drop off point for people coming from either east or west and headed to CWC. From here, we hailed a motorcycle (local: "habal-habal") for CWC. After a kilometer, we reached the complex, sighed, and finally, after the longest detour of our lives, we got to wakeboard. La-la-la. At the complex, we unite with Natie, completing our trio for this backpacking edition of our helluva backpacking lives. Hooray!
After an entire day of pulling cables and breaking surface tension, we checked in at a guesthouse 500 meters outside CWC. It was the cheapest we got at 600 per night. I read a Facebook post about this typhoon hitting Bicol region and nearby areas. It was approaching at 240kph south east of the PAR. With the typhoon news presented before us, we deliberated. Most of the time, I had to call the shots. I badly wanted to see Mayon Volcano, but it was off the way to Caramoan. I thought about having to enjoy the paradisal ambiance of the latter whilst the typhoon was still outside the PAR. So the next day after a "champorado" breakfast, we headed for Sabang. Goodbye my volcano, huhu. Until next time.
We changed jeepneys twice. Two hours from Pili-Goa, 15 minutes from Goa to Sabang. At 11am, we were met by a crowd of excited vacationers waiting for the boats bound to Caramoan. We queued and inquired and got a good deal from a lady in a kiosk for accommodation. Two hours later, we finally boarded the boat.
It was a very fine day. Clear blue skies and calm waters. The boat was not as comfortable as I had imagined. But from our uncomfy seats, we could see fine mountain ranges fringed along the road that would also take to the same place, albeit longer and more disgruntling (we took the land trip exiting Caramoan). And on our right, much to my surprise, was Mt. Mayon. It was all covered in clouds. But unlike what Natie saw from Legazpi, we got to see the pinnacle of Mayon. Not that majestic unlike the pictures we've seen, but that's a good intro to the world's perfect cone. Imma scale you one day. Char lang.
As the boat docked, we were welcomed by the contact person the lady at Sabang arranged for us. After 30 minutes passing through a seemingly idle town on a tricycle, we arrived at our beachfront accommodation. Like I said, we were on a tight budget. Even the P1,500 room for 3 was too expensive for us already. We couldn't find anywhere else cheaper. We opted for the beach front and that was the price. Blah, whatever.
It was time to eat. It was difficult to find a decent place to eat at first until we found this bar-restaurant that was closest to redemption for us. We dined. Before us was a pretty view of islets and limestones glowing in gold as the sun was starting to set down at 4pm. In spite of the good view enticing us, we decided to leave the island hopping for the next day so we could have much longer time to enjoy.
We strolled. Asking locals around for information about good whereabouts on a fine afternoon, we could tell how the entire Caramoan is dazed by the "Survivor" mania. Almost everyone I asked would point us to the site where the show is being shot. Along the coast, we could see banners and Survivor flags. On one side was the camp of the crew in their ongoing workshops and planning for the next Survivor season. At the end of the beach, we were led up close to a huge limestone sitting on that side of the coast where fresh and salt water meet. Right along the bank of brackish stream was Mushroom Bar, where we met Dennis, the owner of the bar as seen in Survivor France. He proudly showed us around his place where the voting and the feast take place. The remnants of the reality show are obvious: the immunity necklace, skull ornaments, and a chill vibe to hang with cold beer.
Nearing dusk, we found ourselves bent up on the grayish sands of Paniman, Caramoan. For the next hour, we played with the waves of the Pacific and hovered over the water sighing before the breezy sundown. By then, we still hadn't realized all the troubles that were waiting for us.
There are only 3 ATMs in Caramoan. Two were non-functional on that holy week. My Odesk pay might have not arrived within the holiday so I had to hitch on Quentin then. But Quentin's got a Visa card which was not acceptable to the only functioning ATM that time. We had anticipated this before but unwilling to work it out then. Natie was the only one who anticipated. So with me and Quentin penniless, Natie had to do all the cash out for everything else from then on.
The real trouble began.
It was a bit ridiculous. We listed everything Natie paid for us hopeful that it was enough until we get back to Naga. Our itinerary for the next day was limited to island hopping "only". At 1,500 for the three of us, we knew we could still go home. We were also hopeful the machines would dispense money the next day. With the pictures of the islands promising paradise to us, we hit the sack early.
We woke up to a very fine day again. Clear blue skies, no hint of typhoon. But lo and behold, all island tours got cancelled. No matter how we insisted that it would take the entire day before signs of impending doom by typhoon hit us, the coast guard remained stiff. We were no geophysicists to defend ourselves. All we had to do was wait until PAGASA would lift the travel ban that day. It was much dismay to everyone who spent the Holy Week with such report. We waited the entire day, with blue skies the entire day, and the island tours ...nothing.
We decided to go around instead and make use of our time, so we made a different itinerary to relieve the disappointment. Around Caramoan are some caves to visit. The nearest one is 600 meters from Mushroom Bar. Most of the dismayed vacationers crowded that side of the coast where this huge limestone sits. And many of them were also river trekking to this cave.
The low tide made the scenery a bit different unlike the day before. With strips of sand running halfway through the river bank, we walked and then soaked ourselves to waist-deep water that led us to a lagoon. Dead end. We had to climb for the caves. It was nice. We went down and dipped in the stream. It was fine. But it would have been really nicer if the island tours resumed.
There was nothing much to do around Paniman. Gota Resort was closed. And the coast guard still remained stiff after trying to hypnotize them. It was petty talk but thanks anyway. They said, they didn't wanna risk our lives. Where was the risk in a calm sea and clear skies? It was 3pm. Blah.
We decided to just go to this grotto which locals promised a great 360 scenic view of the Caramoan sea, comparable to Rio de Janeiro
"daw".
Thirty minutes off the Paniman coast and through steep roads, we hit the 500-step stairway to the grotto where this huge statue of the Virgin Mary stands with arms wide open. As far as our eyes could see, this Typhoon Chedeng as PAGASA named it, was nowhere. But, whatever. The view here was beautiful. We stayed for the sunset as the sky glowed in shades of red, orange, pink up until the full moon gave out a bright glow. It was a relaxing scene.
And then, we got reminded of another problem. Cash.
Paying 600 to the tricycle that sent us to the grotto, to mainland Caramoan and back to Paniman, the only remaining cash we had was for meals. We were running out of money. The ATMs were still non-functional, and our guesthouse doesn't transact payments with cards. I didn't want to ask help from our parents, so the only solution was to borrow money from friends with the promise to pay back as soon as we get to Naga. It was quite embarrassing, but
BAHALA NA SI BATMAN.
We needed money to pay for the guesthouse: 3k for 2 nights of stay. The 2nd night was out of the plan, but we were stranded waiting for PAGASA to lift the ban thus the decision to stay one more day. Two of my most loyal and helpful Korean friends tried to deposit through BPI machines. All attempts failed. The deposit machines also went on holiday. There were no "Kwarta Padala" shops and outlets in Caramoan. The only option left was Smart Money. For a while I was quite hopeful. But it was Friday. It was Good Friday in the holy week genre, but that day was no good to us. Most shops that offer cash deposits through Smart Money were close. They were on holiday too. Hence, our world crumbled.
We ran out of decent options. I was thinking of the most embarrassing thing to do in my life but I didn't want to do it at first. I tried to solve the problem and asked Titus and Ray (my might Korean men) to try the BPI deposit machines again. We woke up to a Black Saturday and realized that it was the end of decency. Our future was black, we had to play desperate. Desperate measures, for desperate times. Natie had thought of the same, and she convinced me to do it. Sch3izer!
"Ma'am, tumatanggap po ba kayo ng card? (we already asked them and they already said no the other day. Just asking again....for the sake of good intros). Hindi po kasi talaga gumagana yung ATM sa bayan. Tapos di po makakapagpadala yung kaibigan namin dahil holiday. Ang tanging option po namin eh pumunta ng Naga at mag-withdraw. Kung papayag po sana kayo, pwede po bang ipadala na lang namin ang bayad namin through Smart Money?"
Ma'am, do you accept card payments? The ATMs in town aren't really working. And our friends can't send cash to us because it's holiday. The only option we have left is to go to Naga and withdraw. If you consent, can we just have our payment send through Smart Money?"
There was a mix of emotions in my heart that I couldn't understand. It was not really sure whether they'd let us go and do it or call the police. I remember that Spanish couple in Siargao a year back when the police had to apprehend them because they haven't paid their resort for some months. Hala ka! Kulba my heart.
We were checked in at Victoriapress Inn by the beach front. It is a family-owned business. And the whole family was there when I asked the most embarrassing question of my life. There was silence. They were eating. There was longer silence. They started cleaning up. I tried to don a halo and a face they could sympathize. Then. The head woman in the family gave out the most promising response I've heard in my life.
"Ok, sige"
The heavens just opened its gates for us.
But then, something else troubled us. When we knew that the only option to exit Caramoan was by bus at 300 per head, we realized the 500 pesos left with us was not enough.
"At, pwede din po ba ka kaming manghiram ng P500, pandagdag lang po sa pamasahe namin. Hindi talaga kasi kami maka-withdraw eh."
And also, can we borrow P500 for our fare? We really can't withdraw"
And then a blackhole appeared and swallowed me alive.
Godsend. We packed our bags to catch the last trip to Naga at 2pm. To another horror, there were no more buses at the terminal. The last one had left jam-packed with nowhere to insert even an arm according to the other stranded vacationers. The heavens had closed all of a sudden.
The tricycle driver who had driven us around Caramoan, Roy, was the same driver who consoled with us over the bus we missed. Going the extra mile, he lobbied with the others to charter a van with us. With 5 more stranded there, seven would divide the total cost for the charter. There was this woman who offered her van to us. We needed 1500. We had 1000. We discussed terms and asked them if we could pay the remaining amount as soon as we arrive in Naga where we can withdraw. They were quite stern, and they wouldn't carry all of us if we couldn't pay the exact amount.
CHEH!
Then, the heavens opened again. Desperate times, desperate measures. One of the stranded vacationers offered to lend us money. She knew we were above suspicion, so she discussed terms with us. It was salvage out of nowhere. We were a tad close to becoming vagabonds if not for this woman whose name we even forgot to ask. Thank you so much.
And just like that, everything else that came after Bicol was godsend. I was at the brink of the stupidest thought of selling my GoPro just to get by all the troubles. All the crazy things and the crazy thoughts and the crazy possibilities. We had our individual angst that we didn't even have time to discuss about or encourage one another. We just hoped to ourselves. I prayed. And despite all the troubles, to me, it was just so amazing still how random people or mere strangers would just come to offer unrewarded help. It must have really been the most disastrous trip ever, but surely, one unforgettable antic I would opt to recall for the remarkable kindness of strangers. This may not be the most amazing story in the universe, but surely, this makes me a stronger witness to what astonishing feats faith in ground zero can bring about.